From Department of Mechanical and Process Engineering at ETH Zurich:
The Aerial Construction project is a collaboration between the Institute for Dynamic Systems and Control and the Chair of Architecture and Digital Fabrication. The objective is to investigate and develop methods and techniques for robotic aerial construction... (project homepage)
Smart buildings are often moving the wrong way, with more central "cloud-based" decision making, and less autonomy.
Records 1 to 2 of 2
Featured Product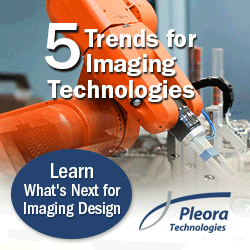 Technology development moves at a dizzying pace and the machine vision industry is no exception. Specific to imaging there is consistent innovation aimed at improving efficiencies, costs, and intelligence. Over the past 12 months, for example, new USB3 Vision™ products have driven the design of higher bandwidth, plug-and-play solutions for imaging applications. What's next for machine vision? This article examines five trends that are expected to influence imaging system design. Sign up at right to receive news and updates on the latest vision technology for medical imaging and you'll receive Five Trends for Imaging Technologies free!