Applied Controls Will Market and Support Adept Robots in U.S. Mid-Atlantic Region
How does a company find a good rep? They need to talk to their customers for recommendations. The customer will always recommend someone, with which s/he already has a good relationship. If there is a rep association in the same industry, contact the association.
Records 1 to 2 of 2
Featured Product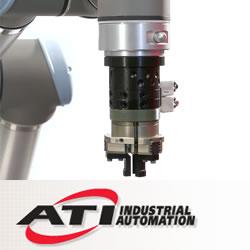 The ATI Robotic Tool Changer provides the flexibility to automatically change end-effectors or other peripheral tooling. These tool changers are designed to function reliably for millions of cycles at rated load while maintaining extremely high repeatability. For this reason, the ATI Tool Changer has become the number-one tool changer of choice around the world. ATI Tool Changer models cover a wide range of applications, from very small payloads to heavy payload applications requiring significantly large moment capacity.