Well over a million dollars pledged for these projects.
From 7Bot's Kickstarter campaign:
In 2014, two of us co-founded project uArm with other two makers. There we received a lot of feedback from our Angel backers:
More axis for more powerful applications, and more controlling dimensions (force control, speed control and flexible-joint).
More rugged material rather than Acrylic, muscular servos hardly to be burned out.
More intelligent API. Better inverse kinematics and path planning algorithms to make the movement more precise and smooth.
More accessories and various of end-effectors.
Our custom servos with precise position feedback allow you to quickly set it up and operate in teaching mode without any codes. In this mode, you can simply drag each joint of the robot to a serious of desired way points. The movements will be recorded, and could be replayed in an optimized path.
A multi-platform supported 3D visualization application will be provided for you to manipulate the 7Bot Arm intuitively. With our 3D visualization application, you can easily set and read the position of each joint separately with real-time graphic interface.
If you have two 7Bot Arms, you can build this amazing Humanoid robot -7Bot Arm Dual: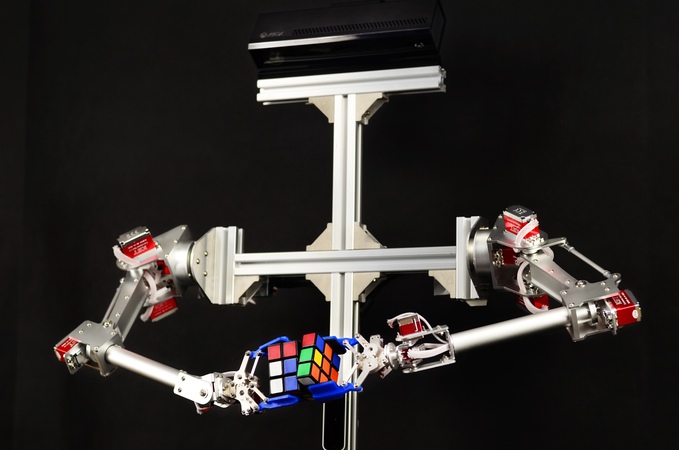 Estimated shipping date is January 2015... (7Bot's Kickstarter campaign)
Records 1 to 2 of 2
Featured Product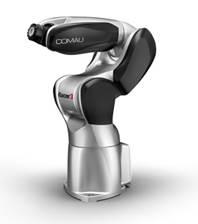 Racer3 is a powerful, high-speed, 6-axis articulated robot featuring a payload of 3kg and a reach of just 630 mm. Built from high-strength aluminum, the newest innovation in Comau robotics is lightweight and can be easily mounted on benches, walls, ceilings or on inclined supports. The third robot within the award-winning Racer family, Racer3 is Comau's response to the growing demand for fast, cost-effective robotic automation within small to medium-sized enterprises and emerging countries. Racer3 is intended for general industry use to increase productivity and reduce overall costs by automating industrial applications. It combines field-proven technology and enhanced dexterity with a keen focus on safety, design and product aesthetics. With a streamlined design and brushed metal exterior, the new powerhouse of a robot combines beauty and speed together with absolute precision and repeatability. Primary applications include assembly, material handling, machine tending, dispensing and pick & place.