Introduces high performance Sawyer robot with software development kit
Jason Baker for OpenSource: Open source isn't just changing the way we interact with the world, it's changing the way the world interacts back with us. Case in point: open source robotics.
Robots are playing an increasing role in our world, and while we perhaps haven't reached the utopian future with robotic housekeepers imagined for us in the Jetsons, robotics are making advances in fields that fifty years ago would have been completely unimaginable.
While undoubtedly manufacturing has been one of the biggest beneficiaries of the robot renaissance, we are seeing robots enter the mainstream as well. Many of us have robots that clean our floors, clear our gutters, mow our grass, and more.
And now, with the advances of self driving cars, drones, and other transport technologies, the line between what is a robot and what is a vehicle is steadily blurring.
But let's be honest: a lot of us have an interest in robotics simply because it's fun! And the good news is you don't need to be an electrical engineer to enjoy robotics as a hobby. Fortunately, there are a number of open source projects out there that can help even the most novice beginner get started. Full Article:
Records 1 to 2 of 2
Featured Product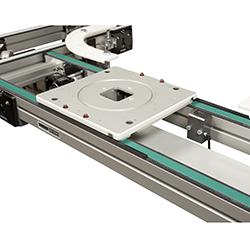 Dorner's 2200 Series Precision Move Pallet Systems feature the latest advancements in pallet traffic management. A unique pin tracking system guides pallets through merges and curves while maintaining product orientation. The fast belt change capability increases efficiency and reduces downtime in assembly automation processes. They are available in lengths up to 25 ft., can handle loads up to 500 lbs. and travel at speeds up to 114 ft/min.