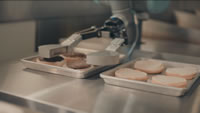 Miso Robotics and Cali Group today unveiled Flippy, an artificial intelligence-driven robot that will work alongside kitchen staff to grill burgers at CaliBurger restaurants. Flippy had its debut at the CaliBurger location in Pasadena, California. A video demonstration captured the robotic kitchen assistant flipping burgers and placing them on buns. Flippy will roll out in early 2018 and expand to more than 50 CaliBurger restaurants worldwide by the end of 2019. Miso Robotics is pioneering the use of computer vision and deep learning software to bring low-cost, adaptable robotics into restaurants. The company's collaborative kitchen assistant handles the hazardous, tedious and time-sensitive aspects of grilling and cooks burgers to perfection every time. It easily integrates into CaliBurger's current kitchen layout without needing to reconfigure existing equipment. Full Press Release:
Here are three examples where Robots are beginning to take over in the restaurant.
Records 1 to 2 of 2
Featured Product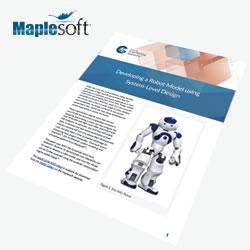 This paper uses NAO, the humanoid robot from Aldebaran Systems, to demonstrate how MapleSim can be used to develop a robot model, and how the model can be further analyzed using the symbolic computation engine within Maple.