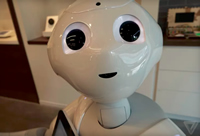 Lauren Goode for The Verge: Pepper, the humanoid robot created by Aldebaran Robotics and SoftBank Mobile, is slowly making its way to the US — and it's starting in Silicon Valley. The robot was seen in action this week at the b8ta store in Palo Alto, California, a gadget shop launched by former Nest employees.
Pepper was on a demo loop at the store, so we weren't able to fully interact with it. But the idea behind Pepper is that it's supposed to interpret and respond to a variety of customer needs. Using a combination of 2D and 3D cameras in its eyes and mouth, plus four multi-directional microphones, Pepper is able to "read" four human emotions — happiness, joy, sadness, and anger — and respond accordingly. It rolls up to you, raises its hands in greeting when you introduce yourself, and turns its head toward you when you move or talk. It is toylike and adorable. Cont'd...
From Mashable:
That's right; online used car retailer Carvana has officially unveiled its first vending machine completely stocked with cars. Standing at five stories tall, the coin-operated (yes, really) glass tower vending machine can house as many as 20 used cars at a time. The facility also includes a welcome center and three customer delivery bays to which the cars are dispensed... (full story)
Records 1 to 2 of 2
Featured Product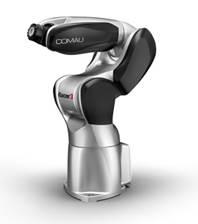 Racer3 is a powerful, high-speed, 6-axis articulated robot featuring a payload of 3kg and a reach of just 630 mm. Built from high-strength aluminum, the newest innovation in Comau robotics is lightweight and can be easily mounted on benches, walls, ceilings or on inclined supports. The third robot within the award-winning Racer family, Racer3 is Comau's response to the growing demand for fast, cost-effective robotic automation within small to medium-sized enterprises and emerging countries. Racer3 is intended for general industry use to increase productivity and reduce overall costs by automating industrial applications. It combines field-proven technology and enhanced dexterity with a keen focus on safety, design and product aesthetics. With a streamlined design and brushed metal exterior, the new powerhouse of a robot combines beauty and speed together with absolute precision and repeatability. Primary applications include assembly, material handling, machine tending, dispensing and pick & place.