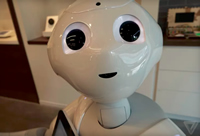 Lauren Goode for The Verge: Pepper, the humanoid robot created by Aldebaran Robotics and SoftBank Mobile, is slowly making its way to the US — and it's starting in Silicon Valley. The robot was seen in action this week at the b8ta store in Palo Alto, California, a gadget shop launched by former Nest employees. Pepper was on a demo loop at the store, so we weren't able to fully interact with it. But the idea behind Pepper is that it's supposed to interpret and respond to a variety of customer needs. Using a combination of 2D and 3D cameras in its eyes and mouth, plus four multi-directional microphones, Pepper is able to "read" four human emotions — happiness, joy, sadness, and anger — and respond accordingly. It rolls up to you, raises its hands in greeting when you introduce yourself, and turns its head toward you when you move or talk. It is toylike and adorable. Cont'd...
From Mashable: That's right; online used car retailer Carvana has officially unveiled its first vending machine completely stocked with cars. Standing at five stories tall, the coin-operated (yes, really) glass tower vending machine can house as many as 20 used cars at a time. The facility also includes a welcome center and three customer delivery bays to which the cars are dispensed... ( full story )
Records 1 to 2 of 2
Featured Product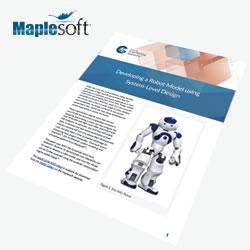 This paper uses NAO, the humanoid robot from Aldebaran Systems, to demonstrate how MapleSim can be used to develop a robot model, and how the model can be further analyzed using the symbolic computation engine within Maple.