From Rethink:
Introducing Sawyer – the revolutionary new high performance collaborative robot designed to execute machine tending, circuit board testing and other precise tasks that are impractical to automate with industrial robots.
Smaller Footprint, Longer Reach
Smaller and lighter weight than Baxter, and with 7 DOF and a 1026 mm reach, Sawyer can maneuver into the tight spaces and varied alignments of work cells designed for humans.
International Availability
With a base price of $29,000, Sawyer will initially be available in North America, Europe, China and Japan, with limited availability beginning in mid-2015.
Intera 3
Like Baxter, Sawyer is powered by the industry's best and most intuitive software platform, Intera. It features the same iconic "face" screen (with a refreshed and even more expressive design) that helps it communicate with co-workers, along with the train-by-demonstration user interface that revolutionized how robots can be deployed on factory floors. Sawyer runs on the same version of Intera as Baxter, and will continue to evolve and improve with regular upgrades... (more details) (more about Intera software)
Records 1 to 1 of 1
Featured Product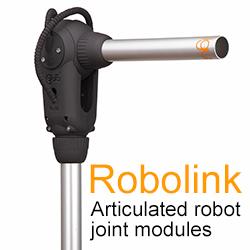 Robolink: Articulated joint modules for robots. igus® now offers a lightweight, maintenance- and corrosion-free range of robot joints for humanoid systems or other automated applications. The carbon-fiber plastic joints can rotate and oscillate freely via four wire ropes. No more expensive milling, cutting or DIY systems. Moving mass is reduced to a minimum. The actuators (engines, pneumatics and hydraulics) and the control module (DP, PC) are kept separate. Contact igus® for more information and free samples.