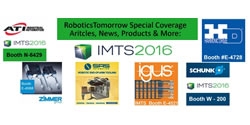 IMTS 2016 will be held from September 12th - 17th in Chicago, Illinois. This RoboticsTomorrow.com Special Tradeshow report aims to bring you news, articles and products from this years event.
Ben Rossi for Information Age: Robotics has already been deployed in manufacturing to great effect for over a decade, performing delicate and precise tasks with greater accuracy than humans.
But now cutting-edge robots and other smart machines are set to join forces with the rapidly expanding Internet of Things, which Gartner estimates will total 25 billion devices by 2020.
In healthcare, robotic services are already operating pharmacy dispensers and robotic trolleys are now deployed in a growing number of hospitals. In hospitality, robots deliver services such as drinks dispensing and automated trolley deliveries.
Robots have even made their way into education, where they are being deployed successfully as a tutor, tool or peer in learning activities.
But what impact will this large-scale adoption of robotics have on existing networks as they encounter inevitable further strain? Cont'd...
Records 1 to 2 of 2
Featured Product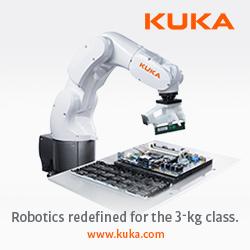 Great advances often start with small steps - in manufacturing cells measuring only 600 × 600 mm. Here, the KR 3 AGILUS is in its element. Particularly in the case of small parts and products which must be produced in a minimum of space. KUKA expertise, concentrated into the smallest of spaces, is setting new standards for the 3-kg class. The lightweight robot masters various tasks with agility, dynamism and maximum precision, leading to high flexibility in production - even when it comes to extremely narrow spaces.