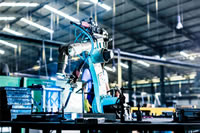 Li Liuxi and Chen Na for Caixin Online: Local governments pumped hundreds of millions of yuan into the robotics industry in the first half of the year, helping to boost profits by as much as 60 percent in those companies rushing to take advantage of the generosity.
With strong support from Beijing, China has embarked on a robot-building frenzy in the last two years in an effort to move beyond traditional manufacturing. But as often happens in industries targeted for development, poorly designed incentive programs often lead to abuse that results in millions of dollars in wasted funds.
Similar waste in China's electric-vehicle and renewable-energy sectors has led to the buildup of huge new capacity that is sometimes unusable or of such low quality that no market exists for the products.
In the case of robotics makers, Caixin found government funding made up a large portion of profits for a dozen manufactures listed in Shanghai, Shenzhen and Beijing in the first six months of this year. Cont'd...
Records 1 to 1 of 1
Featured Product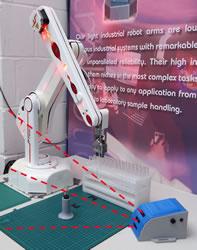 ST Robotics have decades of experience in industrial robots having sold hundreds of robots over the years. The company has 3 main models, R12, R17 and R19 all using a unique simple industrial technology that dramatically reduces costs resulting in the lowest priced industrial robots available. The same uncomplicated technology vastly improves reliability. ST backs this up with a 2 year warranty. Typical applications are routine testing, sample handling and also education. The software is a different paradigm from most robots. It is command based; you type a command and see immediate action. Programming is a building block approach, building confidence as you program in small 'mind-sized bytes'. ST offers free unlimited technical support.