UCSD: Underwater robots developed by researchers at Scripps Institution of Oceanography at the University of California San Diego offer scientists an extraordinary new tool to study ocean currents and the tiny creatures they transport. Swarms of these underwater robots helped answer some basic questions about the most abundant life forms in the ocean—plankton. Scripps research oceanographer Jules Jaffe designed and built the miniature autonomous underwater explorers, or M-AUEs, to study small-scale environmental processes taking place in the ocean. The ocean-probing instruments are equipped with temperature and other sensors to measure the surrounding ocean conditions while the robots "swim" up and down to maintain a constant depth by adjusting their buoyancy. The M-AUEs could potentially be deployed in swarms of hundreds to thousands to capture a three-dimensional view of the interactions between ocean currents and marine life. Cont'd...
DARPA's FLA program aims to create unmanned nano robot like insects & birds that can go into buildings & perform key activities that will not be possible by Humans.
Records 1 to 2 of 2
Featured Product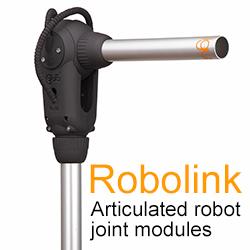 Robolink: Articulated joint modules for robots. igus® now offers a lightweight, maintenance- and corrosion-free range of robot joints for humanoid systems or other automated applications. The carbon-fiber plastic joints can rotate and oscillate freely via four wire ropes. No more expensive milling, cutting or DIY systems. Moving mass is reduced to a minimum. The actuators (engines, pneumatics and hydraulics) and the control module (DP, PC) are kept separate. Contact igus® for more information and free samples.