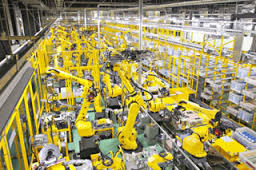 by Zacks Equity Research: Technology giant and Dow component Cisco Systems, Inc. recently entered into a strategic alliance with a robotics company Fanuc America, thereby stepping up its efforts to make itself a key player in the Internet of Things (IoT) space.
Per the alliance, Fanuc and Cisco have built an IoT system that enables Fanuc to monitor every robot on the factory floor. This way it can be determined whether a robot is likely to fail, so that a service technician can fix the equipment before it stops working.
This could save companies hundreds of dollars of fixing cost. Per Cisco CEO Chuck Robbins, downtime for these robots can cost a business $16,000 per minute. Therefore, the new system that offers predictive maintenance can be a big thing for some operations.
The companies are currently testing the system in a channel that comprises around 1,800 robots and includes Fanuc customer, GM. In this testing period, Fanuc says its customer has saved $38 million. Fanus has plans to expand the system to 2,500 robots by the end of the year. Cont'd...
OCTOPUZ recently put a KUKA KR 60 robot with KRC4 controller and an IPG LaserMech auto-focusing head to the test and the results were phenomenal.
Records 1 to 2 of 2
Featured Product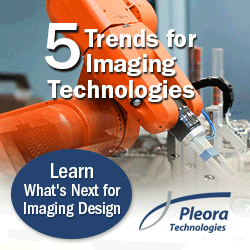 Technology development moves at a dizzying pace and the machine vision industry is no exception. Specific to imaging there is consistent innovation aimed at improving efficiencies, costs, and intelligence. Over the past 12 months, for example, new USB3 Vision™ products have driven the design of higher bandwidth, plug-and-play solutions for imaging applications. What's next for machine vision? This article examines five trends that are expected to influence imaging system design. Sign up at right to receive news and updates on the latest vision technology for medical imaging and you'll receive Five Trends for Imaging Technologies free!