From Business Insider:
It all started in 2012, when his cat Orville got hit by a car. Jansen decided it would be a shame to simply bury his late feline friend, so he drew inspiration from his pet's namesake — Orville Wright, one of the Wright Brothers, the inventors of heavier-than-air flight. Jansen gutted Orville, preserved him, and turned him into a custom quadcopter...
... When a friend offered him a dead badger, he immediately accepted and soon settled on a use for it: a submarine. The project is called "Das Boot," a play on the famous German U-boat film "Das Boot," as well as the Dutch word for "badger" — "das." (full story)
Records 1 to 1 of 1
Featured Product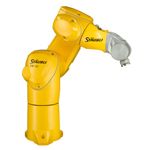 Stäubli offers a complete range of robotic tool changing systems for payloads of 20 kg to 1,530 kg and torsion moments from 30 to 12,500 Nm, designed for use in virtually every industry. The tool changers adapt to customer-specific applications with different modules for media, data, power, etc. The new MPS 130 robotic tool changer is powerful, very robust, and designed for a huge range of applications. It features multiple couplings for air/vacuum connections, and can be equipped with connectors for data and electrical transmission. Very compact dimensions, with a coupled height of only 67 mm, make the MPS 130 the first choice for applications requiring a high number of mating cycles.