GUI's simplify technical applications.
SMAC Moving Coil Actuators has developed easy-to-use Graphic User Interfaces for several of their most popular applications. The first such GUI is for Thread Quality Checking applications. The SMAC Thread Check Center (TCC) is a program that has the following functionality:

- Configure and run thread check applications that use SMAC hardware and a LAC-25 dual axis controller.
- Download thread check programs in the controller and execute them.
- Output documented program files in native LAC-25 syntax.
- Save and load configurations.
- Teach function for soft landing height. This also includes measurement and adjustment of linear current at home and landing position.
- Hyper Terminal functionality
- Separate tabs for runtime use, setup and tuning functions.
- Password protection for setup and tuning functions.
- Provide real time plot of rotary error versus position.
- Handshake interface using digital I/O with a host controller (PLC or PC)
The automated thread checking solution from SMAC enables a 100% detailed inspection and verification of all parts. It also identifies tool wear sooner, and allows SPC data acquisition for process control and quality systems. All of this translates to higher quality and throughput, lower costs and increased customer confidence.
In 2018, SMAC plans to releases GUI's for Container Diversion, Threaded Capping, Measurement, Switch Test and Leak Test.
SMAC's built in sensor feedback system gives SMAC's Moving Coil Actuators the unique mechatronic ability to "do work and verify its success at the same time." This would allow the actuators to quality check key processes 100% in real time and feedback the results.
SMAC Moving Coil Actuators offer true "mechatronic solutions." By that they mean their actuators have unique capabilities such as programmable and controllable position, velocity, and force, high accelerations, cycle life well over 100M, and a patent-pending "Soft-Land" capability. The Soft-Land capability is particularly useful when performing fragile part assembly, measurement, moving objects, etc.
For more information, please visit www.smac-mca.com
About SMAC: Founded in 1990 in Carlsbad, California USA, SMAC has now grown to become a world leader in Moving Coil technology and is now the largest manufacturer of Moving Coil Actuators in the world.
Featured Product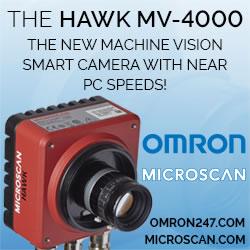 Awe-inspiring power and superior flexibility is sheathed within the contoured casing of the HAWK MV-4000. This smart camera builds upon the previous generation by quadrupling processing power and achieving real-time trigger response using an FPGA. Its state-of-the-art algorithms make it an excellent tool for any industry, whether the requirement be code reading, code verification, inspection, guidance, gauging or a combination of all four.