Health system pharmacy software now includes advanced location pricing and business intelligence capabilities
ARxIUM, an industry-leading developer of pharmacy automation, workflow and consulting solutions, today announced new features for RxWorks Pro, an integrated software platform that automates and manages health system pharmacy operations. The software now includes enhanced location pricing with web-based ordering and business intelligence capabilities to improve speed of care, cost savings, and operational efficiencies.

The softwares integrated, web-based ordering feature provides health system pharmacies with a comprehensive tool to manage the fulfillment of satellite and clinic sites. The tool enables pharmacies to define formulary items for each location, track item usage patterns and capture financial transfers of goods based on advanced location pricing capabilities (340B, wholesale acquisition cost or group purchasing pricing). The application is easily installed and accessible via the web, and medications are ordered from a template which reduces order time for satellite locations and fulfillment time for pharmacies. In addition, the tool improves communications between pharmacy sites, as ordering locations can leave comments for the fulfillment site to view.
"The new features demonstrate our continued commitment to improving accuracy, efficiency and cost savings," said Olivier Martin, executive vice president of sales and marketing of ARxIUM. "Health systems will have greater purchasing power and inventory management capabilities for satellite pharmacy sites, and the ability to make real-time, data-driven decisions to improve the pharmacys bottom line. Its important to note, RxWorks Pro can easily integrate, unlike most of its competitors, with a health systems enterprise platform and other manufacturers pharmacy systems."
The RxWorks Pro business intelligence application provides customized dashboards to improve pharmacy operations and obtain actionable business insights. The dashboards can be configured to capture important data to meet enterprise objectives and other key metrics. It also allows pharmacists to quickly address critical operational issues, such as managing drug shortages with enterprise-wide visibility of on-hand quantities, allowing medications to be routed to faster moving locations as needed, rising costs due to expensive drugs, inventory turns, carousel items below minimum and more. In sum, the feature allows better management of medication inventories and real-time response to pharmacy demands with customizable reporting options.
About ARxIUM
Based in Winnipeg, Manitoba and Buffalo Grove, Illinois, ARxIUM delivers best-in-class technology and unparalleled expertise to help pharmacies of all sizes improve safety, productivity and efficiency. The company provides scalable, comprehensive solutions for every segment of the pharmacy market. ARxIUMs offerings include automated compounding, packaging and dispensing, compliance packaging management, inventory control and storage, workflow and scheduling software, production and workflow design, and technical consulting and implementation assistance, among other services. For more information, visit www.arxium.com.
Featured Product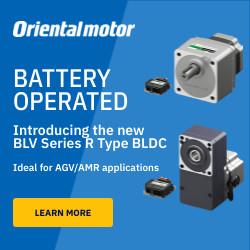 The BLE2 Series replaces our popular BLE Series and continues our brushless motor advantages by featuring an all new compact, high-power and high-efficiency brushless DC motor combined with a Driver that can be digitally set and controlled via external DC voltage or by the front panel. The BLE2 Series can easily compete with larger 3-phase inverter driven motors in many more applications, with built-in simple holding torque function, saving space and increasing performance thanks to the advantages of a brushless motor design. The BLE2 Series has a maximum speed of 4000 r/min, achieving a speed ratio of 1:50 (80 to 4000 r/min). The new motor structure is small than previous models and enables high power and high efficiency while incorporating easy setting, installation and wiring. The new motor connector offers IP66 degree of protection and allows for easy and direct connection between motor and driver with two available orientation of cable outlet direction. Standardized use of stain