Segway Robotics prepares to ship Loomo to consumers after a successful campaign
SAN FRANCISCO, April 26, 2018 /PRNewswire/ -- Segway Robotics, a wholly owned subsidiary of Segway-Ninebot Group, concluded its successful Indiegogo crowdfunding campaign yesterday, having raised $1,093,312 in 50 days from 952 backers. The initial goal of $100,000 USD was achieved less than 33 minutes after Segway Robotics started its crowdfunding campaign for Loomo, a smart machine that toggles between a mini personal transporter and mobile robot sidekick.

Loomo begins shipping to Indiegogo backers in late May and this will continue through the summer, with hundreds of Loomos to be shipped every week. The company plans to have every Loomo robot delivered by the end of June 2018.
With the close of the campaign, Segway Robotics is extending pre-orders from Indiegogo crowdfunding to Indiegogo InDemand, with Loomo available for $1499.
As the world's first mobile robot sidekick, Loomo can accompany users everywhere they go. With an auto-follow function, it can autonomously track and follow you along the way. Loomo's friendly form factor, playful set of expressions, and other features were designed to cheer users up and entertain everyone around them. To ride, users can ask Loomo to exit robot mode and transform into a self-balancing vehicle (SBV) that can reach speeds up to 11mph (18kph).
Loomo can also be controlled via its touch screen and touch pads, accompanying smartphone app, voice commands, and hand gestures. For developers, Loomo also comes with a free Android-based SDK that allows developers to access Loomo's mobility and AI capabilities to build a range of playful features or practical solutions.
The campaign's success can be attributed to Segway Robotics' willingness to challenge the current market perception of personal transporters and robotic devices. Loomo has captivated tech enthusiasts with its unique capabilities - and thanks to early-adopter feedback, these capabilities will only continue to evolve and improve in the future.
"We would like to thank everyone who has supported us in this journey to build the robot of the future! The support and feedback we've gotten as a result of this campaign has been incredible and we are excited to see what the future holds for Loomo" said Li Pu, President of Segway Robotics.
Now the mobile robot sidekick & mini personal transporter is available for pre-order on Indiegogo InDemand.
About Segway Robotics
Segway Robotics is a privately held company that focuses on developing and commercializing personal robots. Founded in 2015, it is fully owned by Segway-Ninebot Group, a Series C company. The company has notable backers including the likes of Sequoia Capital, Intel Capital and Xiaomi.
To find out more about Segway Robotics: http://www.segwayrobotics.com/
Featured Product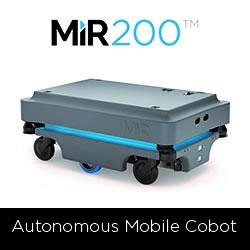 MiR200 is a safe, cost-effective mobile robot that automates your internal transportation. The robot optimizes workflows, freeing staff resources so you can increase productivity and reduce costs. MiR200 safely maneuvers around people and obstacles, through doorways and in and out of lifts. You can download CAD files of the building directly to the robot, or program it with the simple, web-based interface that requires no prior programming experience. With its fast implementation, the robots offers a fast ROI, with payback in as little as a year.