-Outlook 2021: Global sales to increase +14 percent per year on average -Japan: highest number of robots produced -Europe: highest robot density -China: strongest demand, highest sales volume
The new World Robotics Report by the International Federation of Robotics (IFR) shows that a new record high of 381,000 units were shipped globally in 2017 - an increase of 30 percent compared to the previous year. This means that the annual sales volume of industrial robots increased by 114 percent over the last five years (2013-2017). The sales value increased by 21 percent compared to 2016 to a new peak of US$16.2 billion in 2017.

There are five major robot markets representing 73 percent of the total sales volume in 2017: China, Japan, South Korea, the United States and Germany.
China has significantly expanded its leading position with the strongest demand and a market share of 36 percent of the total supply in 2017. With sales of about 138,000 industrial robots (2016-2017: +59 percent) China's sales volume was higher than the total sales volume of Europe and the Americas combined (112,400 units).
Japan's manufacturers delivered 56 percent of the global supply in 2017. This makes Japan the world's number one industrial robot manufacturer. The export rate increased by 45 percent (2016-2017).
The manufacturing industry of the Republic of Korea has by far the highest robot density in the world - more than 8 times the global average amount. But in 2017, robot supplies decreased by 4 percent to 39,732 units. The main driver of this development was the electrical/electronics industry that reduced robot installations by 18 percent in 2017.
Robot installations in the United States continued to increase to a new peak in 2017 - for the seventh year in a row - and reached 33,192 units.
Germany is the fifth largest robot market in the world and number one in Europe. In 2017, the number of robots sold increased by 7 percent to 21,404 units - a new all-time record - compared to 2016 (20,074 units).
Please find the FULL VERSION of the IFR press release with Robot use by industry, automation degree by robot density and Graphics at: https://ifr.org/ifr-press-releases/
About IFR
The International Federation of Robotics: www.ifr.org
Featured Product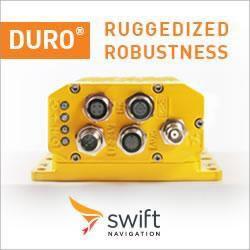 Duro® and Duro Inertial are enclosed dual-frequency RTK GNSS receivers. Designed and built to survive long-term, outdoor deployments, the easy-to-deploy Duro and Duro Inertial combine centimeter-accurate positioning with military ruggedness at a breakthrough price. Duro Inertial features an integrated IMU for continuous centimeter-accurate positioning in the harshest of outdoor deployments.