Investment firm Mosley Venture Partners invests in Tomahawk Robotics, furthering the development of Kinesis, a multi-domain collaborative robotic control solution ushering in robotic Internet-of-Things (IoT)
Tomahawk Robotics, a proven innovator committed to bringing advanced robotic control systems to enterprise markets, announced that it has raised a $2.4 million seed round investment from leading venture capital firms and angel investors. Participating in the oversubscribed round are: Mosley Venture Partners (lead), Naples Technology Ventures, Scout Ventures and Stout Street Capital.

This initial investment round will be used to further evolve Tomahawk Robotics Kinesis platform and expand the product development and engineering teams to address immediate deliverables for key customers.
"We are honored to have Mosley Venture Partners lead our initial seed round. We are fortunate to have a committed investment partner who not only supports our vision but also brings significant strategic value," said Brad Truesdell, Co-Founder and CEO of Tomahawk Robotics. "With their continued support we are confident that Tomahawk Robotics will play a major role in the development of the robotics technologies of tomorrow."
Today the majority of robots are found in factories with structured environments requiring high precision and specialized personnel to install and operate. Addressing the lack of flexibility of these systems for new uses and their high cost, Tomahawk Robotics has developed Kinesis. Conceived as a robotics extension to IoT, Kinesis enables true collaboration of multi-domain robotic systems…air, ground, and maritime…enabling the use of robotics for enterprises in the service economy by reducing cost and making robotic systems easy to use. Kinesis enables robotics to address dull, dirty and dangerous tasks.
"Technologies coming together to create new solutions that provide tremendous benefit to the health, safety and security of individuals around the world is a key focus for us," said John Vecchio, Partner at Mosley Venture Partners. "Leveraging the various robotic technologies that exist today, and creating cohesive, extensible control solutions that can not only save time and money for customers, but also contribute to the safety of workers is what drew us to Tomahawk Robotics. Were excited about partnering with the Tomahawk team and see what solutions can be created, and what problems can be solved, when different robotic technologies are combined"
To learn more about Tomahawk Robotics, visit tomahawkrobotics.com.
About Tomahawk Robotics
Founded in 2018, Tomahawk Robotics is a market leader and innovator of robotic control solutions serving Security & Defense, Energy & Infrastructure, and Assistive Robotics markets. Tomahawk Robotics is committed to driving enterprise adoption of robotics for the service economy by reducing cost, increasing speed, and making robotic systems easier to use through intuitive, user-centric design. Its Kinesis robotic IoT software solution is a collaborative, one-to-many control system enabling users to seamlessly manipulate their environment, from across the room or around the world - successfully addressing dull, dirty and dangerous tasks. For more information, please visit tomahawkrobotics.com.
About Mosley Ventures
Mosley Ventures is a venture capital fund investing in early stage technology startups in Atlanta and the Southeast. We primarily invest in the following sectors - security software, mobility and wireless, big data and healthcare IT. Sig Mosley is the Managing Partner of Mosley Ventures. Since 1990, Sig has been the most prolific southeast investor in 122 startups with 83 liquidity events. Sig is currently the record holder of the largest southeast venture deal with the $5.7 billion acquisition of Tradex by Ariba. For more information, please visit http://www.mosleyventures.com.
Featured Product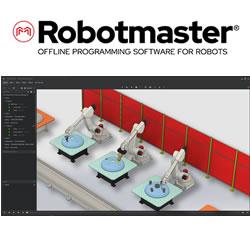 Since Robotmaster V7 uses integrated CAD/CAM functionality, for the first time, the power of Robotmaster can be used by welding, cutting and other process experts without buying or learning complex CAD/CAM software. As in past versions, Robotmaster V7 imports paths, but now makes it even easier for end users to leverage any CAD/CAM tool choice. It is an intuitive tool that anyone could use, with or without robotics expertise. It bridges the gap between robots and manufacturing by providing easy programming solutions for part manufacturing.