Zaber's X-LDA-AE Series devices are motorized linear stages delivering high speed, precision, and reliability in a compact package.
A centrally mounted linear encoder results in up to 1 µm position accuracy and consistent movement steps down to 20 nm. X-LDA-AE devices feature non-cogging ironless linear motors, providing high speed and acceleration capabilities. Both the drive and encoder are non-contact, and have no moving cables, resulting in an extremely robust system.

Features include:
• 200 nm repeatability; 1 µm accuracy; 20 nm minimum incremental move
• Direct position measurement from 1 nm resolution linear encoder
• Up to 0.8 m/s speed; up to 4 g acceleration
• 25 - 150 mm travel options
Featured Product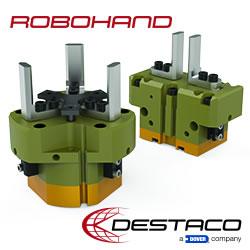 Automatically change end effector tooling quickly and easily with Destaco's Automatic Tool Changers. Designed with exceptional repeatability, high rigidity and load capacity, they are perfect for multiple tooling applications utilizing one robot. We offer different models and sizes to handle light-duty to heavy-duty applications. Our RQC/RTP Series provides a high level of flexibility with a configurable, modular design that accommodates up to four optional modular interfaces.