Automatic Guided Vehicle industry sales projections for 2014 are very strong, particularly in distribution. Flexibility, versatility of systems, bolstered by evolutionary advances in controls are some of the key selling points.

Contributed by | Seegrid
Flexible AGVs (automated guided vehicles) increase efficiency and reduce costs by helping automate a warehouse as well as a production line, reported Transportation & Logistics News. This emphatic declaration has a direct economic impact.
PwC recently released its Q2 2013 Manufacturing Barometer which found that optimism among U.S. industrial manufacturers regarding the domestic economic outlook reached the highest level since the first quarter of 2012. The U.S. is starting to show signs of healthy demand trends and improving pricing power, yet due to the specter of increased legislative and regulatory pressures, management teams are continuing to carefully manage their costs, while maintaining a focus on growing profitability.
Bobby Bono, PwC's U.S. Industrial Manufacturing Leader, shared that 82% of industrial manufacturers surveyed expect positive revenue growth for their own companies in the next twelve months, and during the same time 40% plan major new capital investments.
The line between manufacturing and distribution has grown increasingly cloudy over the past two years. Getting product off the plant floor and out of a distribution center to the end-user customer is more complex than ever, and questions of safety, quality, and the role of best-practice technology tend to confuse rather than clarify the otherwise optimistic outlook.
Automation is often referenced only on the manufacturing plant floor. Increasingly, automation occupies large 200,000+ square foot distribution centers throughout North America and Europe. The challenges for these large, often three-shift, high volume, rapid-turnaround operations are developing an effective turnkey solution with superior design, increased production, and reduced costs.
A distribution center is a principal part, the order processing element, of the entire order fulfillment process. Distribution centers are usually thought of as being demand-driven. A distribution center may be called a warehouse, a DC, a fulfillment center, a cross-dock facility, a bulk break center, and a package handling center. The name by which the distribution center is known is commonly based on the purpose of the operation. For example, a "retail distribution center" normally distributes goods to retail stores, an "order fulfillment center" commonly distributes goods directly to consumers, and a cross-dock facility stores little or no product but distributes goods to other destinations.
Distribution centers are the foundation of a supply network, as they allow a single location to stock a vast number of products. Some organizations operate both retail distribution and direct-to-consumer out of a single facility, sharing space, equipment, labor resources, and inventory as applicable.
Since a large retailer might sell tens of thousands of products from thousands of vendors, it would be highly inefficient to ship each product directly from each vendor to each store. Many retailers own and run their own distribution networks, while smaller retailers may outsource this function to dedicated logistics firms that coordinate the distribution of products for a number of companies. A distribution center can be co-located at a logistics center.
Companies continue to feel pressure from a variety of fronts in terms of distribution costs and performance. Logistics professionals seem to be buffeted by multiple operational and environmental challenges, while simultaneously facing increasing customer service requirements and an exponential increase in the number of SKUs.
Labor Costs, Aging Workforce, and Safety
Whether on the plant floor or distribution picking and packing areas, a high percentage of the manufacturing, logistics, and distribution executives, express concerns about the trend of increasing labor costs.
Freightliner Custom Chassis Corporation deployed Seegrid's automation solution, robotic industrial trucks, in an effort to reduce labor costs. "Our materials department was able to show a labor cost-savings of up to four hours per day for each Seegrid robot. So basically we are now saving around eight hours of labor cost per day just from the use of the robots. Our safety benefits were also a key contributor to our decision to become forklift free. Seegrid provides extremely reliable technology that greatly reduces our chances of any safety concerns from arising," said Timmy Mcabee, Materials Support Technician, at Freightliner Custom Chassis.
Many distribution centers have an aging labor demographic and that brings up issues of safety, productivity, and quality control. The trend is for companies to operate fewer, larger distribution centers to maintain customer service levels with fewer facilities, resulting in a reduction in total network inventory levels. These larger distribution centers create different operational challenges.
In most cases, distribution center jobs are more costly than automation. A distribution center typically has a general manager who manages the facility along with a number of department managers who are direct reports. Many distribution centers, in excess of 100,000 square feet, divide staff into two categories, direct labor and indirect labor. Direct labor staff executes the distribution processes, while indirect labor staff supports the direct labor staff. Each department is composed of supervisors and warehouse workers. Given these rising labor cost pressures, "disruptive demographics", and increasing distribution center size and scale, companies are placing an increased focus on distribution automation, particularly in materials handling.
The direct labor jobs at a large warehouse or distribution center usually includes:
Unloaders - unload trucks and breaks down pallets as needed, using various pieces of power equipment
Receivers - inventory and tag unloaded pallets using a mobile cart computer unit and printer
Haulers - transport received pallets with equipment from the receiving dock to the storage racks
Putaway drivers - put product into racks with forklift
Lumpers - help unload shipments
Replenishment drivers - pull product from the racks and places it into the "pick slot" with forklift
Order fillers - pick product from the "pick slot" by hand and move with power equipment
Loaders - wrap the order-filled pallets and loads trucks, using equipment
Indirect labor departments and jobs at a 100,000+ square foot warehouse/DC usually includes:
Supervision - floor (process) supervision, indirect labor supervision
Human resources - employment office and employee benefits
Facilities and housekeeping - maintenance of buildings
Inventory management - tracking and placement of product
Quality assurance - inspection and acceptance of incoming and outbound product
Asset protection - building security and loss prevention
Safety - insurance of safe operating practices
Equipment maintenance - electrical, mechanical, and pneumatic maintenance of MHE
Operations research - industrial engineering, process improvement, labor standards
Information technology - support of information systems
Five Years Later: Flexible AGV Growth in Distribution is Exponential
In 2008, Supply Chain Digest looked at the state of AGVs in distribution. While delivering value in certain applications, especially in manufacturing, AGVs overall had failed to enjoy broad market acceptance in distribution until very recently. The prognosis for ten-fold growth for flexible AGVs used in distribution centers explains why industry segment leaders corroborate the PwC data described earlier in this report.
The traditional AGVs were battery-driven, unmanned vehicles that transported material and product, a robot. The value was clear: replace human operators using traditional material handling equipment such as fork trucks, pallet jacks, and tow tractors with an automated vehicle to move the same load. The problems with traditional AGVs were steep upfront costs, limited flexibility, complicated, a high total cost of ownership, and a long return-on-investment (ROI) prospect.
The technology and the financing ROI model changed. This vision-guided technology improvement was pioneered by Seegrid Corporation and its robotic industrials trucks (RITs) are known throughout manufacturing and distribution as the flexible AGV. Vision systems are often used in robotic applications to assist in product positioning, identification, and quality control. Distribution centers must employ the most advanced vision systems in its robotic applications to ensure quality and accuracy. The cost of a mispick is simply too costly and completely avoidable.
Kris Bjorson, International Director and Head of Retail/e-commerce Distribution, Jones Lang LaSalle reported for Area Development that, "As e-commerce sales march ahead of in-store sales, the major issue discussed at the Retail Industry Leaders Association's (RILA) Retail Supply Chain Conference: Logistics 2013 was best practices for developing and executing an omni-channel distribution strategy. And real estate — particularly distribution centers (DCs) — is a significant part of the process."
Bjorson also noted that retailers are evolving their multichannel strategy — from outsourcing fulfillment operations to third parties as a short-term solution to taking it "in-house" by building DCs that can handle both individual and store orders in the same facility, yet only 6% of retailers are implementing fully agreed upon integrated multichannel strategy.
Leasing Flexible AGVs Part of the Financing Model
Equipment Leasing and Finance Association's (ELFA) Monthly Leasing and Finance Index (MLFI-25), reports economic activity from 25 companies representing a cross section of the $725 billion equipment finance sector; recently reported their overall new business volume was $8.6 billion, up 8% compared to volume in for the same month last year. Month-over-month, new business volume was up 15% from the preceding month. Year to date, cumulative new business volume increased 10% compared to 2012.
Separately, the Equipment Leasing & Finance Foundation's Monthly Confidence Index (MCI-EFI) for July 2013 was 59.4, an increase from the June index of 57.3, reflecting industry participants' increasing optimism. ELFA President and CEO William G. Sutton, CAE, said, "Businesses continue to increase spending on capital equipment as evidenced by U.S. government statistics showing three consecutive months' increase in durable goods orders by American firms. The amount of leasing and financing of business equipment and software continues to grow, while the credit quality of these transactions remains at historic highs. Member companies are optimistic that this trend will continue into the summer months and beyond."
"Traditional material handling equipment, especially automated guided vehicles, have been difficult for companies to purchase due to the large capital spend requirements that did not meet a business' return on investment requirements. Leasing allows companies to reap the benefits of flexible AGVs while realizing an immediate return on investment," noted John Hayes, Vice President of U.S Sales and Marketing for Seegrid Corporation.
3PL: Another Aspect of Distribution Automation
A third-party logistics provider (abbreviated 3PL) provides service to its customers of outsourced (or "third party") logistics services for part, or all of their supply chain management functions. 3PLs typically specialize in integrated operation, warehousing and transportation services that can be scaled and customized to customers' needs based on market conditions, as well as the demands and delivery service requirements for products and materials. When services go beyond logistics and included value-added services related to the production or procurement of goods, the provider is called third-party supply chain management provider (3PSCM) or supply chain management service provider (SCMSP). Whether company-owned or 3PLs, each requires an array of services from an independent systems integrator assistance in developing the best of breed solutions to meet operational, economic, and strategic goals. Automation is at the heart of every distribution center improving production and quality while reducing costs.
New South Express LLC, a 3PL for Honda Manufacturing of Alabama, now operates a more efficient facility with the use of automation. "With the robots performing non-value-added travel, an associate can stay on core processes while the Seegrid robotic industrial trucks manage the transportation duties to support the associates," said David VanBrimmer, Engineering Department Manager.

Last fall, a survey conducted by the Material Handling Industry (MHI), industry professionals noted cost savings, improved efficiencies and accuracy/speed are the most important operational factors driving automation. Seventy-four percent of respondents plan on con- sidering automation for their operations. 2011 AGV sales were $108 million, or 925 vehicles, the strongest performance since 2000. More flexible AGVs will be found in warehouses and DCs and JD Power predicts that for 2013 there is a strong correlation between the increase in automotive sales and AGV sales.
Automatic Guided Vehicle industry sales projections for 2014 are very strong, particularly in distribution. Flexibility, versatility of systems, bolstered by evolutionary advances in controls are some of the key selling points according to the Automatic Guided Vehicle Systems (AGVS) Industry Group of MHI, which the group will address once again at MODEX 2014 in Atlanta. Seegrid is proud to be leading the industry buzz and pioneering the technology of flexible AGVs used in distribution centers worldwide.

About Seegrid Corporation
Seegrid provides simple, affordable, flexible vision-guided automated guided vehicles (AGVs) to the material handling industry. Seegrid robotic industrial trucks, flexible AGVs, are revolutionizing the movement of materials in manufacturing and distribution environments. Seegrid automated pallet trucks, tow tractors, and walkie stackers optimize workflow processes by increasing productivity and reducing costs, creating economic and operational advantages. Robotic industrial trucks deliver a rapid return on investment, improve facility safety, and reduce equipment and product damage. Seegrid's vision-guided technology transforms industrial vehicles into unmanned, automated pallet trucks, tow tractors, and walkie stackers that operate without the need for wire, laser, tape, or magnet. Fast Company magazine named Seegrid as one of the Top 50 World's Most Innovative Company in 2013 and among the Top 10 World's Most Innovative Robotics Company in 2013.
The content & opinions in this article are the author's and do not necessarily represent the views of RoboticsTomorrow
---
Comments (0)
This post does not have any comments. Be the first to leave a comment below.
---
Post A Comment
You must be logged in before you can post a comment. Login now.
Featured Product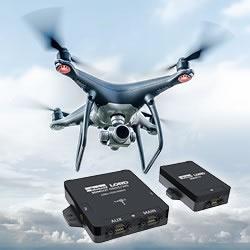 The new complete inertial navigation solution comes with GNSS/INS 3DMGQ7 sensor, 3DMRTK correction modem and real time SensorCloud RTK correction network. The sensor comes with Dual antenna GNSS, tactical grade IMU with centimeter-level accuracy with RTK. Low profile and light weight at 78 grams, this sensor is The sensor is optimized for size and weight in Unmanned Ground Vehicles, mobile robots and autonomous vehicles. The network interface 3DMRTK modem is seamlessly integrated into the 3DMGQ7 sensor supports industry-standard NMEA and RTCM 3.1 protocols. The network RTK support comes with cellular data plan. The SensorCloud RTK is a cloud-based RTK correction system with private encrypted data stream. Check out our G Series and C Series OEM products.