Accuray Extends Availability of CyberKnife Radiosurgery to Cancer Patients in Additional Emerging Markets
SUNNYVALE, Calif., Jan. 17, 2012 -- Accuray Incorporated (Nasdaq: ARAY), the premier radiation oncology company, announced today that CHRISTUS MUGUERZA Hospital Alta Especialidad in Monterrey, Mexico has starting treating patients with the CyberKnife® Robotic Radiosurgery System. CHRISTUS MUGUERZA is the first center in Mexico now offering patients the benefits of the CyberKnife System to treat tumors anywhere in the body.

The CyberKnife System is a non-invasive option used to treat tumors and non-cancerous lesions anywhere in the body including intracranial, lung, head and neck, prostate and pancreatic tumors. The CyberKnife System delivers highly targeted and effective doses of radiation with the highest levels of accuracy enabling treatment of tumors close to critical, healthy structures. The CyberKnife System's unique ability to not only track, but also automatically correct for, unpredictable movement of tumors during treatment minimizes radiation exposure to healthy tissues and helps patients avoid many side effects typically associated with other radiation options.
CHRISTUS MUGUERZA began treating patients in October 2011 and to date has treated eight patients with malignant tumors or non-cancerous lesions in the brain, head and neck, and kidneys using the CyberKnife System. The hospital's delivery of stereotactic body radiation therapy and stereotactic radiosurgery using the CyberKnife System marks an important milestone for Accuray and offers cancer patients throughout the region a critical new treatment option.
"This installation marks the first use of the CyberKnife System in Mexico and demonstrates Accuray's commitment to growing our presence outside the U.S. in emerging markets," said Euan S. Thomson, Ph.D., president and CEO of Accuray. "To date, more than 100,000 patients worldwide have been treated with the CyberKnife Radiosurgery System and we are pleased to extend the benefits of stereotactic body radiation therapy and stereotactic radiosurgery to patients in Mexico."
Earlier this month, Accuray announced significant momentum in global adoption of its CyberKnife and TomoTherapy® Systems, solidifying the company's footprint in the large and growing radiation oncology market. Accuray has taken its installed base from zero to more than 600 commercially released systems in approximately 10 years. That momentum has continued in the U.S. and internationally as a result of growing demand for effective and efficient radiation oncology treatments in emerging growth markets, and as the growing body of clinical evidence mounts supporting the unique advantages of the company's image-guided radiosurgery and intensity-modulated radiation therapy (IMRT) technologies. Read the complete announcement.
About Accuray
Accuray Incorporated (Nasdaq: ARAY), based in Sunnyvale, Calif., is the premier radiation oncology company that develops, manufactures and sells personalized innovative treatment solutions that set the standard of care, with the aim of helping patients live longer, better lives. The Company's leading edge technologies - the CyberKnife and TomoTherapy Systems - are designed to deliver radiosurgery, stereotactic body radiation therapy, intensity modulated radiation therapy, image guided radiation therapy, and adaptive radiation therapy. To date, more than 200,000 patients worldwide have been treated using the Company's technologies and more than 600 systems have been installed in leading hospitals around the world. For more information, please visit www.accuray.com.
Featured Product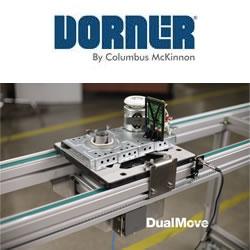 Dorner's 2200 Series Precision Move Pallet Systems are ideal for assembly automation. With features such as an innovative timing belt conveyor design and industry best pallet transfers, they get your product to the exact location, at the exact time and in the exact position it needs to be. They are now available with new options such as heavy load corner modules with 150 lb. capacity and 180 degree tight transfer corners for compact loops.