Point Grey, a world leader in advanced digital imaging products, will be hosting the AIA Winter 2012 Vision Standards Meeting in Vancouver, Canada from February 13 - 17th.
January 25, 2012 - Richmond, BC, Canada - Point Grey, a world leader in advanced digital imaging products, will be hosting the AIA Winter 2012 Vision Standards Meeting in Vancouver, Canada from February 13 - 17th. This is the first meeting of its kind where leading industry players meet to progress technical milestones on interface standards. One of the key items on the agenda is the continued effort to form the USB3 Vision standard for a 2012 release.

Mike Gibbons, Point Grey Product Marketing Manager, explains, "We are delighted to host this first meeting, given our extensive history and experience with developing USB 3.0 camera technology." Gibbons adds, "As a founding member of the USB3 Vision committee we're excited to see the overwhelming response to the standard. We look forward to welcoming both current and new members to this historic event."
Point Grey has been a leading innovator of USB technology for a number of years. USB 2.0 products were added to the portfolio in 2005 and Point Grey demonstrated the world's first USB 3.0 camera in 2009. Since launching the Flea3 USB 3.0 camera, Point Grey has built an ecosystem of USB 3.0 components, including host controller cards, cables and software, that work seamlessly together to provide a reliable end-to-end imaging pipeline. Point Grey USB 3.0 cameras will support the USB3 Vision standard as well as be backwards compatible to Point Grey's current camera control protocol.
"When compared to the existing lineup of digital interfaces, USB 3.0 offers increased 400 MB/s throughput and, like FireWire, provides cost-effective power and data over a single cable," says Gibbons. "While USB 3.0 is almost 10 times as fast as GigE, GigE's maximum cable length is superior. It is clear that USB 3.0 and GigE will co-exist as the predominant interface choices for industrial, scientific and traffic applications."
For those interested in the progress of USB3 Vision thus far, the initial white paper can be found at http://www.visiononline.org/vision-standards-details.cfm?type=11
About Point Grey
Point Grey Research, Inc. is a worldwide leader in the development of advanced digital camera technology products for machine vision, industrial imaging, computer vision, and traffic and surveillance applications. Based in Richmond, BC, Canada, Point Grey designs, manufactures and distributes USB 3.0, Gigabit Ethernet, IEEE-1394 (FireWire), and Camera Link cameras that are known for their excellent quality, performance, and ease of use. A broad range of hardware, software and mechanical engineering skills has allowed Point Grey to successfully bring many innovative and ground-breaking products to market. This drive for innovation has led to many industry firsts, including the world's first and smallest 1394b digital camera, the smallest GigE camera, and the first USB 3.0 machine vision camera.
Since its founding in January of 1997, the company's approach to product pricing, quality control, and customer service has attracted thousands of customers worldwide, and its organic growth through product sales has enabled the company to expand significantly without any outside investment. Point Grey currently employs more than 130 people worldwide and has a wholly-owned German subsidiary that provides sales and support services to customers in Europe, Africa and Israel. The company also has a strong network of distributors in Japan, Korea, China, Singapore, Taiwan and the United Kingdom. For more information, visit www.ptgrey.com
Featured Product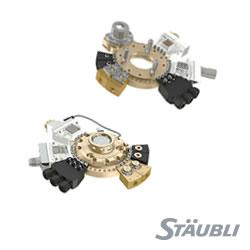 TX2 robots: redefining performance by offering collaborative safety and high performance in a single machine. These pioneering robots can be used in all areas, including sensitive and restrictive environments, thanks to their unique features. Safety functions are easy and inexpensive to implement. They allow a higher level of interactions between robots and human operators, while still guaranteeing protection of your people, production and investment.