More than 20 countries participated in the contest to reward the most innovative Human-Assistance Applications
STMicroelectronics, a global semiconductor leader serving customers across the spectrum of electronics applications, announced the successful completion of the OpenWorld Design Contest. Launched in March 2011, the contest was brought to a close at STMicroelectronics\' Grenoble site with an official award ceremony that recognized the goal of facilitating access to public spaces and services for the visually disabled while celebrating the contributions of the participants.

More than one hundred individuals from around the world submitted innovative projects to promote Human-Assistance applications as part of the contest. Built around the EvoPrimer™ Platform integrating STM32® microcontrollers, projects were assessed by a jury, composed of Autonomie Consortium members, on their technical merits and on their utility to the visually impaired, who will be the-end users of the resulting applications.
The OpenWorld contest was organized within the scope of the Autonomie project, a consortium of international companies, local industry, research institutes, and local and regional authorities co-financed by the European Union, via FEDER (European Funding for Regional Development) to develop innovative technologies that facilitate access to public spaces and services for the visually impaired.
The Autonomie Project was initiated by an STMicroelectronics employee who is sight impaired. With the participation of both ST and ST-Ericsson, the project sought to encourage the application of a wide range of microelectronics technologies, from microcontrollers and sensors to wireless technologies, to assist the blind and sight impaired. The objective has been to facilitate access to these technologies and applications via 'integrated electronics' solutions that are both affordable and tailored to the real and specific needs of the disabled.
The winning projects were:
Grand prize: \"Intelligent Primer Nurse\" (Czech Republic) is an application that transforms the EvoPrimer platform into a bio-medical monitoring system. Worn at the belt, Intelligent Primer Nurse automatically measures heart rate and blood pressure and transmits a warning if specified levels are exceeded, making everyday life safer for the patient and reassuring their family. Data is transmitted for analysis over a wireless link to a computer.
Second prize: AMIWheelChair\" (France) is an application that collects data such as wheelchair position, speed and positioning, together with the muscular exertion required by the user, to automatically adjusted the wheelchair accordingly. AMIWheelChair also factually assesses accessibility by observing places which, despite significant efforts, still make it difficult for people in wheelchairs to move around. In addition, the application allows members of the wheelchair community to share information and GPS photos of obstacles and hurdles they encounter via an online map.
Third prize: \"EvoMouse\" (India): this application turns the EvoPrimer platform into a wireless mouse or remote control to communicate with a computer. Designed for uninitiated computer and Internet users, as well as the visually impaired or people with motor disabilities, EvoMouse improves the user interface to make it easier, for example, to open the FireFox browser or run Windows Media Player simply by pressing a button that your disability makes it hard for you to see.
The Grenoble Public Transport Operators\' Prize (Syndicat Mixte des Transports en Commun, SMTC): \"Travel to City\" (France):
Travel to City helps the visually impaired use public transport networks. Journey planning is simplified by making clearer the nearest bus stop and where and how many times the user might have to change buses to reach their final destination. Along the way, bus stop names and details of changes are read out, with voice guidance available in a choice of five languages. In addition, Travel to City features a \"panic function,\" that enables users to send an SMS containing a Google Map link showing their location to a friend or family member should they find themselves lost.
Honorable mentions were also awarded to \"OxyCheck\" (Poland), an application built from the EvoPrimer platform that monitors the pulse and oxygenation levels of a patient, providing a valuable diagnostic aid in the event of an emergency.
- \"Travel To City\" (France)
* Countries represented in the contest: Canada, China, Czech Republic, Egypt, Ethiopia, France, Germany, Hungary, India, Jamaica, Japan, Malaysia, Mexico, New Zealand, Poland, Russia, Taiwan, Thailand, Turkey, UK, USA.
About the "OpenWorld Design Contest"
The "OpenWorld Design Contest" was organized into two main phases: Concept Proposal and Applications Development. Participants submitted their concept proposals. Qualifying proposals received the EvoPrimer Platform for the STM32 microcontroller from ST (a portable, battery-operated demonstrator and development platform featuring STM32 ARM Cortex-M3 based microcontrollers), an EvoPrimer extension board with gyroscope, magnetometer, accelerometer and pressure sensor notably for precision positioning capabilities, and a free software tool set (that included a compiler, debugger and programmer) to help them create their applications. CircleOS,middleware, "designed to facilitate application development, portability and reuse of existing Primer applications and an extension capability for addition of RF chips supporting Bluetooth, GPS and other signaling technologies, were also provided.
About Autonomie - enabling technology for the disabled
The Autonomie project develops high-tech tools to help maintain independent living for people suffering from blindness or sight impairment. These solutions focus in particular on improving interior and exterior navigation and easing access to public transportation.
The project promotes technological innovation and social responsibility by leveraging Web and mobile technologies to improve the lives of disabled people in their communities.
Autonomie is certified by the Minalogic competitiveness cluster in Grenoble (France) and is financed by the European Union via the European Regional Development Fund (ERDF / FEDER). The project brings together a multidisciplinary consortium of large international companies, local industry, research institutes, and local and regional authorities, including:
• STMicroelectronics and ST-Ericsson: international companies
• INRIA and the Joseph Fourrier University: research institutes
• Ives and Raisonance: local industry
• SMTC: public transportation (Syndicat Mixte des Transports en Commun)
• SEMITAG: the Grenoble public transport operator
• Grenoble-Alpes Metropole
• Minalogic: Competitiveness cluster
One of the key success enablers of the Autonomie project is close collaboration with community group and their sight-impaired members.
Featured Product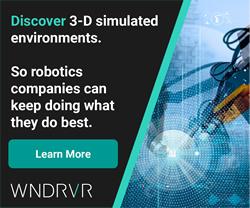 Advances in AI and deep machine learning have ushered in incredible potential for ground-based, aerial, and maritime robotics. Robotics is moving from an opportunity in business and facility operations to a necessity in many industries. As a result, organizations must plan for multi-vendor robots, intelligent traffic flows, storage, and more.