New site features latest photos, videos and news for the AMR solution
Grimsby, Ontario, Canada (April 10, 2012) - RMT Robotics® (www.rmtrobotics.com), a Cimcorp Oy company and the manufacturer and integrator of the ADAM autonomous mobile robot (AMR), announces the launch of its enhanced ADAM website (www.adamrobot.com).

The new ADAM website features photo galleries and videos demonstrating the unique features and benefits of the ADAM AMR solution. With a more interactive and user-friendly design, the website highlights the two main goals of ADAM: connecting islands of automation and connecting people with mobile robots. The site also features the latest in ADAM news and events.
"Our new website provides an enhanced experience for global clients to learn about the dynamic ADAM solution," said Bill Torrens, director of sales and marketing, RMT Robotics. "The visual features and in-depth system information provide a complete introduction to ADAM and its applications."
Site visitors can get to know ADAM further through regular updates via social media channels including Twitter (www.twitter.com/adamrobot1) and YouTube (www.youtube.com/rmtrobotics).
For more information, please contact Lori Vaughan, marketing coordinator, RMT Robotics, at lorivaughan@rmtrobotics.com
For media information, please contact Kim Zdanowicz, public relations, Koroberi, Inc. (www.koroberi.com), by phone at 919-945-0548 or by email at kim@koroberi.com.
About RMT Robotics
RMT Robotics (www.rmtrobotics.com), a Cimcorp Oy Company, is a global company that manufactures and integrates turnkey robotic gantry-based order fulfillment and tire handling solutions designed to reduce operating costs and streamline operations.
To extend the flexibility of robotics beyond a fixed workspace, RMT Robotics also manufactures and integrates ADAM™, the category-defining intelligent mobile robot. The ADAM system redefines the prupose and function of industrial AGVs by performing intelligent robotic transport of materials complex, random origin to random destination industrial environments.
Since 1981, RMT Robotics has been recognized around the globe as an innovator in robotics materials handling. RMT helps our customers compete in an increasingly aggressive and price-sensitive global marketplace by providing best-in-class robotic handling solutions.
Featured Product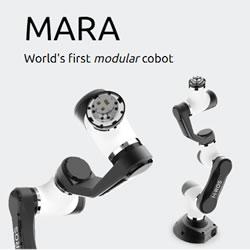 Built out of individual modules that natively run ROS 2.0, MARA can be physically extended in a seamless manner. The modular robot arm delivers industrial-grade features such as a high-speed real time enabled ROS 2.0 communication interface, security protections or a hardware power lifecycle.