Setting New Benchmarks for "Pick and Place" Applications
DUNCAN, SC (May 4, 2012) - Stäubli Robotics is introducing the TP80 fast picker, a new series of high-speed pickers that deliver greater speeds, up to 200 picks per minute, and more flexibility at a lower cost to the packaging market. Stäubli has long set the standard for high speed and precision in robotic performance, ensuring the highest possible throughput and shortest cycle times.

This new robot represents the latest innovation - one that is more agile and lightweight while delivering extremely fast cycle times and maintaining high precision with homogeneous repeatability "throughout the entire work envelope," unlike rival delta robots. A simple base or wall mounting eliminates the need for a large, costly gantry, further enhancing the robot's cost effectiveness and ease of integration. Additional advantages include a slim forearm for moving into slotted machine openings as well as harness and user lines feed-through the Z-axis that are all internal. The TP80 fast picker is also competitively priced, offering an economical alternative for numerous applications without sacrificing quality, durability or performance.
The TP80 robot is available in a 4 axis version, offering great flexibility depending on the user's needs. Standard features include a maximum payload of 1 kg; 200 picks per minute (sustained); 800 mm reach, and a Z - axis stroke of 100 mm. Additional features include very high rigidity, repeatability of +/- 0.05 mm and IP65 Protection Class when equipped with bellows. User lines such as pneumatic (4 and 6 mm) and electrical lines (4 twisted shielded pairs) are protected inside the arm and are available at the tool flange. Optional features include 2 solenoid valves, user installation and bellows.
The TP80 is controlled by the CS8 controller series, a single control platform able to pilot all Stäubli robots. Various VAL software packages are available and perfectly suited for all: end users, integrators, OEMs and machine builders.
In addition to packaging, the robot is ideally suited to the needs of industries such as PV/solar power, pharmaceuticals, consumer goods and food, to name a few. Typical applications include high-speed pick and place, assembly, material handling, packaging and machine tending.
About Stäubli
Stäubli is a mechatronics solutions provider with three dedicated divisions: Textile Machinery, Connectors and Robotics. With a workforce of 4000, Stäubli has a presence in 25 countries and agents in 50 countries around the world. For more information, visit www.Stäubli.com.
Featured Product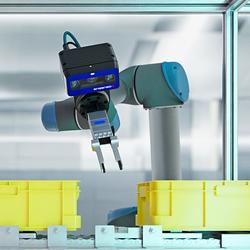 App Your Sensor®! What would smartphones be without apps? They would be mobile phones that can't do much more than make phone calls and sending SMS. Apps turn smartphones into intelligent assistants with any number of different tasks. Transferred into the world of image processing, this app-based approach transforms cameras and sensors into customised, smart vision sensors.