RMT Robotics adds eepos Japan as an official partner in the sale and promotion of ADAM robots
Grimsby, Ontario, Canada (May 21, 2012) - RMT Robotics® (www.rmtrobotics.com), a Cimcorp Oy company and the manufacturer and integrator of ADAM™ autonomous mobile robots (AMR) (www.adamrobot.com), has entered into a sales representative agreement with eepos Japan for the promotion and sale of its ADAM mobile robots in Japan.

Eepos Japan will work with RMT to promote and sell the AMR fleets to end users throughout Japan with a strategic focus on the automotive manufacturing and service industries. Eepos Japan's sales and distributor network will promote ADAM through their Japanese channels.
"We are thrilled to partner with eepos Japan to extend our global sales reach and introduce ADAM's unique lean manufacturing capabilities to the Japanese market," said Bill Torrens, director of sales and marketing, RMT Robotics. "Eepos Japan shares RMT's commitment to innovative material handling logistics and will be an ideal partner to promote ADAM systems."
"We look forward to a successful introduction of ADAM into the Japanese market," said Mr. Akihito Niwa, CEO, eepos Japan. "We are confident that the ADAM AMR is the ideal solution to enable automated materials handling in the manufacturing sectors of Japan."
ADAM Autonomous Mobile Robots
ADAM is an AMR that independently performs random origin to random destination transport of work-in-process materials and finished goods in lean manufacturing and assembly applications. ADAM is designed to perform missions autonomously, navigating around fixed and moving objects, free of guide wires, reflectors or transponders.
To download an image of ADAM, please click here: http://koroberi.com/images/rmt/ADAM_Mobile_Robot2.jpg.
For more information, please contact Bill Torrens, director of sales and marketing, RMT Robotics, at billtorrens@rmtrobotics.com.
For media information, please contact Kim Zdanowicz, public relations, Koroberi, Inc. (www.koroberi.com), by phone at +1 919-945-0548 or by email at kim@koroberi.com.
About RMT Robotics
RMT Robotics (www.rmtrobotics.com), a Cimcorp Oy Company, is a global company that manufactures and integrates turnkey robotic gantry-based order fulfillment and tire handling solutions designed to reduce operating costs and streamline operations.
To extend the flexibility of robotics beyond a fixed workspace, RMT Robotics also manufactures and integrates ADAM™, the category-defining autonomous mobile robot. The ADAM system redefines the purpose and function of industrial AGVs by performing intelligent robotic transport of materials in complex, random origin to random destination industrial environments.
Since 1981, RMT Robotics has been recognized around the globe as an innovator in robotics materials handling. RMT helps our customers compete in an increasingly aggressive and price-sensitive global marketplace by providing best-in-class robotic handling solutions.
About eepos Japan
Operating from Osaka, eepos Japan (http://eepos.asia/) is a member of the eepos group which includes eepos GmbH, eepos Shenzhen Inc, and eepos USA. Eepos Japan has extensive experience in the import and sale of aluminum light crane solutions and lifting devices.
Featured Product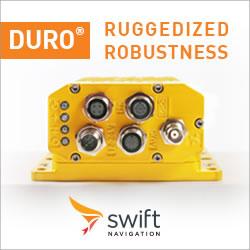 Duro® is a ruggedized version of Swift Navigation's Piksi® Multi RTK GNSS receiver. Built to be tough, Duro is designed for easy integration into existing equipment. This affordable, easy-to-deploy GNSS sensor delivers robust, centimeter-accurate positioning while protected against weather, moisture, vibration, dust, water immersion and the unexpected that can occur in outdoor long-term deployments.