Total projected value of contract action is $65.9 million----- Includes first order for miniature gimbaled payload integrating an electro-optical and infrared video sensor for improved tracking capabilities----- Modular payload compatible with existing Raven® systems
MONROVIA, Calif.--AeroVironment, Inc. (NASDAQ:AVAV) today announced it received a $15,813,406 firm fixed-price authorization to perform on May 22, 2012 from the United States Army as the initial portion of a contract action with a total projected value of $65,889,191. The order includes RQ-11B Raven systems, new miniature gimbaled payloads and initial spares packages, and is funded from the Army's fiscal 2012 procurement budget. Delivery of systems, spares and payloads is scheduled for completion by April 30, 2013.

AeroVironment unveiled its Mantis™ line of miniature gimbaled sensor payloads on April 1, 2012 at the Army Aviation Association of America symposium in Nashville, Tenn. Weighing 450 grams, the ruggedized, multi-axis Mantis i23 houses an electro-optical and infrared thermal video sensor in addition to a laser illuminator. The single payload replaces two separate sensor payloads on the Raven air vehicle, delivering daytime and nighttime capabilities from a single package.
"The U.S. Army has more than 1,700 Raven systems in its inventory with an ultimate goal of more than 2,300 systems," said Roy Minson, AeroVironment senior vice president and general manager, Unmanned Aircraft Systems. "Since winning the Army's small unmanned aircraft system competition in 2005 we have focused on delivering highly reliable, highly capable Raven systems and on continuously enhancing their capabilities. The new miniature gimbaled payload is the latest example of cost-effective improvements that will benefit soldiers directly through enhanced situational awareness."
The RQ-11B Raven unmanned aircraft system is a 4.2-pound, backpackable, hand-launched sensor platform that provides day and night, real-time video imagery wirelessly to a portable ground control station for "over the hill" and "around the corner" reconnaissance, surveillance and target acquisition in support of tactical units. U.S. armed forces use Raven systems extensively for missions such as base security, route reconnaissance, mission planning and force protection. Each Raven system typically consists of three aircraft, two ground control stations and spares.
About AeroVironment's Family of Small UAS
RQ-11B Raven®, Wasp AE™, RQ-20A Puma™ and Shrike VTOL™ comprise AeroVironment's Family of Small Unmanned Aircraft Systems. Operating with a common ground control system (GCS), this Family of Systems provides increased capability to the warfighter that can give ground commanders the option of selecting the appropriate aircraft based on the type of mission to be performed. This increased capability has the potential to provide significant force protection and force multiplication benefits to small tactical units and security personnel. AeroVironment provides logistics services worldwide to ensure a consistently high level of operational readiness and provides mission services for customers requiring only the information its small UAS produce. AeroVironment has delivered thousands of new and replacement small unmanned air vehicles to customers within the United States and to more than a dozen international governments.
The Qube™ small UAS is tailored to law enforcement, first response and other public safety missions. Small enough to fit easily in the trunk of a car, the Qube system can be unpacked, assembled and ready for flight in less than five minutes, giving the operator a rapidly deployable eye in the sky at a fraction of the cost of manned aircraft and large unmanned aircraft.
About AeroVironment, Inc.
AeroVironment is a technology solutions provider that designs, develops, produces, operates and supports an advanced portfolio of Unmanned Aircraft Systems (UAS) and electric transportation solutions. Agencies of the U.S. Department of Defense and allied military services use the company's electric-powered, hand-launched unmanned aircraft systems extensively to provide situational awareness to tactical operating units through real-time, airborne reconnaissance, surveillance and communication. Multiple government agencies have helped to fund the development and demonstration of Global Observer®, a hybrid-electric, stratospheric UAS designed to provide affordable, persistent reconnaissance and communication over any location on the globe. Switchblade™ is a loitering munition designed to provide a rapid, lethal, pinpoint precision strike capability with minimal collateral damage. AeroVironment's electric transportation solutions include a comprehensive suite of electric vehicle (EV) charging systems, installation and data services for consumers, automakers, utilities and government agencies, power cycling and test systems for EV developers and industrial electric vehicle charging systems for commercial fleets. More information about AeroVironment is available at www.avinc.com.
Featured Product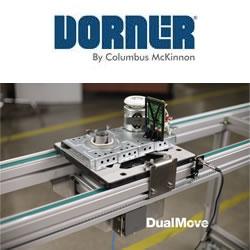 Dorner's 2200 Series Precision Move Pallet Systems are ideal for assembly automation. With features such as an innovative timing belt conveyor design and industry best pallet transfers, they get your product to the exact location, at the exact time and in the exact position it needs to be. They are now available with new options such as heavy load corner modules with 150 lb. capacity and 180 degree tight transfer corners for compact loops.