Wave Glider® enables new services for offshore oil exploration and production
June 21, 2012

HOUSTON--Liquid Robotics, Inc. and Schlumberger today announced the creation of Liquid Robotics Oil & Gas, a joint venture to develop services for the oil and gas industry using Wave Gliders, the world's first wave-powered, autonomous marine vehicles. The joint venture will combine Liquid Robotics Wave Glider technology with Schlumberger oil and gas expertise and industry knowledge to integrate and deploy new solutions for customers worldwide.
Liquid Robotics and Schlumberger have equal ownership of the joint venture. Liquid Robotics will provide fleets of Wave Gliders together with relevant engineering, piloting and maintenance expertise, while Schlumberger brings their upstream technology and market leadership. The joint venture will be the exclusive distributor of Wave Glider products and services to oil and gas customers worldwide.
"We are continually interested in developing innovative technologies of value to the oil and gas industry," commented Ashok Belani, chief technology officer, Schlumberger. "We are extremely excited about the new capabilities the unique Wave Glider platform will bring to offshore exploration and production-particularly in the areas of seismic, subsea and environmental monitoring."
Wave Gliders offer a game-changing capability to operate offshore for up to a year without requiring a crew, fuel or a dedicated support vessel during their mission. Fleets of Wave Gliders have crossed hundreds of thousands of miles of the earth's oceans to help scientific, defense and industrial customers gain valuable insights into the marine environment.
"I am very excited about our joint venture with Schlumberger and the opportunity to expand the Wave Glider's role in the oil and gas market," said Bill Vass, chief executive officer, Liquid Robotics. "By teaming with Schlumberger, we can greatly accelerate the availability and worldwide deployment of innovative oil and gas solutions. Together, we are changing the economic and risk profile of worldwide ocean measurement."
About Liquid Robotics Oil & Gas
Liquid Robotics Oil & Gas, a joint venture with Schlumberger, is an innovative company supplying leading edge environmental and measurement services to oil and gas companies worldwide. Delivered securely and on-demand, these offshore services help customers solve some of the industry's greatest exploration and environmental monitoring challenges. Liquid Robotics Oil & Gas is headquartered in Houston, Texas. For more information, visit http://www.lrog.com/company.html.
About Liquid Robotics
Liquid Robotics, Inc. is an ocean data services provider and developer of the Wave Glider®, the first wave-powered marine robot, that functions as a persistent and versatile platform for scientific, industrial and defense applications. Based in Silicon Valley and Hawaii, the company's Wave Glider is enabling dozens of applications and missions never before attainable. Liquid Robotics is backed by VantagePoint Capital Partners. For more information, visit www.liquidr.com.
About Schlumberger
Schlumberger is the world's leading supplier of technology, integrated project management and information solutions to customers working in the oil and gas industry worldwide. Employing approximately 113,000 people representing over 140 nationalities and working in approximately 85 countries, Schlumberger provides the industry's widest range of products and services from exploration through production.
Schlumberger Limited has principal offices in Paris, Houston and The Hague and reported revenues of $39.54 billion in 2011. For more information, visit www.slb.com.
Featured Product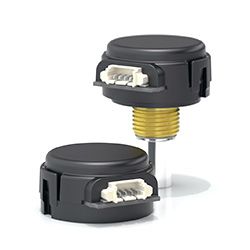 High resolution. Limited space. Not a problem for our latest miniature encoders that provides precise feedback and is easy to install within smaller-sized applications. Now available in 400 and 500 CPRs. Coming in at about the size of a nickel, we've added our proprietary Opto-ASIC sensor technology and improved quadrature for even greater motion control. Product Features: 10 resolutions up to 360 CPR, plus new 400 and 500 CPR resolution; 288 configurations available, including single and differential output; Compact form factor • 0.866 inch (in) / 22.00 millimeter (mm) package outside diameter • 0.446 in / 11.33 mm package height • Fits NEMA 8, 11, 14 and 17 motors; Simple and efficient assembly process • Four-piece construction • Push-on hub disk design, patent pending; 100 kilohertz frequency response; Shafted version up to 0.25 in / 6.25 mm diameter.