To potentially help commercialize cutting-edge robotics technologies.
HOUSTON--Quantum International Corp. (OTCBB: QUAN) is pleased to announce that it has signed a letter of intent with the prestigious Industrial Research Institute for Automation and Measurements (PIAP) in Warsaw, Poland, to potentially help commercialize cutting-edge robotics technologies.

Since 1965, PIAP has been dedicated to fostering the implementation of cutting edge research in automation and robotics in industry. Most recently, PIAP has implemented the production of mobile robots designed to supporting antiterrorist missions.
PIAP collaborates regularly with industrial and scientific organizations in the U.S. and the European Union, making the interdisciplinary institution an excellent fit for Quantum's mission to deliver the next generation of robotics to a hungry, global marketplace.
Robert Federowicz, Quantum International's CEO, says that the company will immediately begin due diligence toward a definitive agreement with PIAP.
"The Institute serves as a leading hub of robotics innovation, and we're very excited by the prospect of working closely with them to develop and market the next wave of revolutionary robots," Federowicz said. "PIAP has a very impressive pipeline of projects in the works that we look forward to examining as we work out a potential deal with them."
For more information on Quantum International's robotics initiatives, please visit http://www.quantuminnovators.com/investors.html.
Quantum International Corp. is working to develop the next generation of robotics technology to compete in a booming global industry alongside Intuitive Surgical, Inc. (NasdaqGS: ISRG), iRobot Corporation (NasdaqGS: IRBT), Medtronic, Inc. (NYSE: MDT) and Dover Corp. (NYSE: DOV).
About Quantum International Corp.
Quantum International Corp. (OTCBB: QUAN) is an emerging robotics innovation company working to commercialize the next generation of sophisticated, automated technology. The Company is positioning itself to develop, deliver and market the most cutting-edge innovations in robotics in order to leverage the worldwide demand for the precision, speed, and cost-effectiveness these technologies offer.
For more information about Quantum International Corp., please visit www.quantuminnovators.com.
Featured Product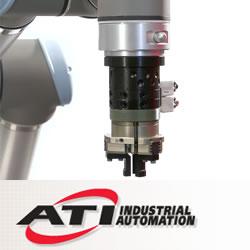 The ATI Robotic Tool Changer provides the flexibility to automatically change end-effectors or other peripheral tooling. These tool changers are designed to function reliably for millions of cycles at rated load while maintaining extremely high repeatability. For this reason, the ATI Tool Changer has become the number-one tool changer of choice around the world. ATI Tool Changer models cover a wide range of applications, from very small payloads to heavy payload applications requiring significantly large moment capacity.