Ideal for large industrial and warehouse facilities, Honeywell has rolled out an industrial wireless (802.15.4) push button switch for their Limitless industrial wireless network
Honeywell Expands Limitless™ Wireless Portfolio with new Wireless Operator Interface Pushbutton Controller

Enables Control and Notification in Remote Parts of Plants Where Wiring is Too Costly or Not Possible
MINNEAPOLIS, August 13, 2012 - Honeywell (NYSE: HON) today announced the release of the new Limitless™ Wireless Operator Interface, WOI Series, which expands Honeywell's Limitless™ wireless switch and receiver portfolio by providing a packaged push button controller for manufacturers and OEMs. The WOI Series adds a human interface device to the product-driven interfaces of the Limitless™ portfolio. With both momentary and maintained contact options, the Limitless™ Series now offers wireless control from both person and position.
Honeywell's Wireless Operator Interface is a controller designed to wirelessly turn on and off equipment (pumps, motors, drives, conveyors, and other industrial equipment), open or close gates/doors, or provide notification to remote locations. The WOI Series can be used in rugged industrial environments to notify appropriate departments when there are quality, machine, material out-of-stock, or other manufacturing issues.
"The WOI Series provides a control option for users looking to avoid the wiring costs, maintenance issues, hazards, time and engineering that comes with a 'wired' push button," said Joseph Citrano, senior global product marketing manager, Sensing and Control. "This new device expands Honeywell's Limitless™ wireless portfolio that includes monitors, din-rail receivers, global limit switches, and heavy-duty limit switches."
Designed for flexibility, the user can choose and install a desired operator (22 mm rotary switch, key switch, key) or utilize one of Honeywell's pushbuttons. It communicates through Limitless™ receivers that provide PLC inputs or relay outputs connected directly to equipment to turn on LEDs or start/stop industrial equipment.
The Limitless™ wireless network is an easy and cost-effective solution for those looking for a reliable wireless solution. It includes the WDRR Din-rail receiver, WPMM monitor, WLS heavy-duty limit switch, and WGLA global limit switch. The entire Limitless™ solution utilizes the global, license-free RF wireless 802.15.4 WPAN protocol that provides up to a 305 m [1000 ft] line-of-sight communication range, and prolongs battery life with advanced power management technology.
The Limitless™ WOI Series potentially could be used in industrial applications such as CNC action, conveyors, door and gate action, lifts, material handling, motor drives, presses, pumps, quality control buttons, specialty machines, stop/start machinery, stop/start production, and valve action. Potential transportation applications include agricultural equipment and movable machinery.
Get more information on this product - http://sensing.honeywell.com/index.php?ci_id=144161&la_id=1
Honeywell (www.honeywell.com) is a Fortune 100 diversified technology and manufacturing leader, serving customers worldwide with aerospace products and services; control technologies for buildings, homes and industry; turbochargers; and performance materials. Based in Morris Township, N.J., Honeywell's shares are traded on the New York, London, and Chicago Stock Exchanges. For more news and information on Honeywell, please visit www.honeywellnow.com.
This release contains "forward-looking statements" within the meaning of Section 21E of the Securities Exchange Act of 1934. All statements, other than statements of fact, that address activities, events or developments that we or our management intend, expect, project, believe or anticipate will or may occur in the future are forward-looking statements.
Forward-looking statements are based on management's assumptions and assessments in light of past experience and trends, current conditions, expected future developments and other relevant factors. They are not guarantees of future performance, and actual results, developments and business decisions may differ from those envisaged by our forward-looking statements. Our forward-looking statements are also subject to risks and uncertainties, which can affect our performance in both the near- and long-term. We identify the principal risks and uncertainties that affect our performance in our Form 10-K and other filings with the Securities and Exchange Commission.
¬
Featured Product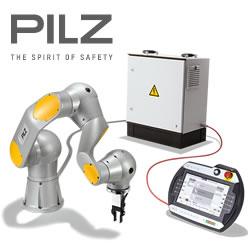 Our service robotics modules give you an easy start in robotics. Assemble your individual robot application - exactly according to your requirements: Service robotics modules consists of the manipulator module PRBT, the control module PRCM, the operating module PRTM and ROS modules. Our collision measurement set PRMS for human-robot collaboration (HRC) supports you reliably on your path to a safe application. Application areas of the service robotics modules can be found in service robotics and industrial environments. Benefit from our cost-efficient, flexible solution!