$150 giant six-foot robotic arm becomes successful on Kickstarter.
Charlotte, NC August 08, 2012

The Cardboard Robot, the only open source robotic arm made of cardboard, has reached its Kickstarter funding goal of $10,000 with 12 days remaining. The next step is to reach their stretch goal of $15,000.
The funding campaign for the Cardboard Robot started on July 6 with a goal of $10,000. The six foot robotic arm; as mentioned on CNET, Engadget and PCWorld, will officially end its Kickstarter funding campaign on August 19.
"I have always thought about building an inexpensive, lighter version of the industrial-sized robot arm that is safe and easy to fix," said creator Ken Ihara. "I appreciate everyone who has backed me so far and excited to see how far we go."
The robot plugs into a computer via the USB port and the arm follows a set of paths that the user can program and save. It comes with a 3-fingered claw for gripping small objects or a smartphone camera attachment for use as a camera crane, which will be useful in schools and at home.
For every $3,000 that is raised by the Kickstarter funding campaign, Ihara will send one complete kit to a high school in the USA. Any school teacher who would like a Cardboard Robot for their school can send a message to Ihara through Kickstarter.
There is still time to pre-order a Cardboard Robot. To follow the project and to pre-order, visit their Kickstarter page
Featured Product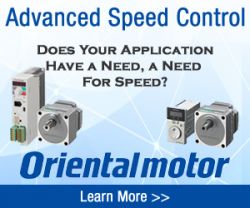 The BLE2 Series replaces our popular BLE Series and continues our brushless motor advantages by featuring an all new compact, high-power and high-efficiency brushless DC motor combined with a Driver that can be digitally set and controlled via external DC voltage or by the front panel. The BLE2 Series can easily compete with larger 3-phase inverter driven motors in many more applications, with built-in simple holding torque function, saving space and increasing performance thanks to the advantages of a brushless motor design. The BLE2 Series has a maximum speed of 4000 r/min, achieving a speed ratio of 1:50 (80 to 4000 r/min). The new motor structure is small than previous models and enables high power and high efficiency while incorporating easy setting, installation and wiring. The new motor connector offers IP66 degree of protection and allows for easy and direct connection between motor and driver with two available orientation of cable outlet direction. Standardized use of stain