The company has developed a whole new generation of electric modular motion axes and systems
HAUPPAUGE, NY, July 24, 2012 - Festo's new ball screw

axes with recirculating ball bearing guide EGSK and EGSP put the
focus on precision, repetition accuracy, compact dimensions, and
rigidity. Both axes are excellent choices for electronics and precision
applications as they can be used for chip handling, pick and place,
vision inspection systems, measuring technology, and engraving
machines - all with a high degree of precision.
The steel housing forms the guide rail, which prevents
accumulative tolerances through production. The four rows of balls are
arranged to give the guide carriage the same basic load ratings in both
radial coordinate directions. Use Festo motor and drive to obtain a
complete package from one supplier.
The new generation of modular motion systems
Mechatronic multi-axis modular systems from Festo offer
hundreds of freely combinable and harmonized components for
gripping, joining, rotating, and positioning. This saves both time and
money. Ready-to-install motion solutions simplify design processes
and protect user budgets. When creating machines and systems,
designers can use the mechatronic multi-axis modular system with
standardized handling systems and combine them individually. This
saves a considerable amount of time and money. From procurement
and logistics, design, and documentation through to assembly and
commissioning, Festo provides everything from a single source with
just one project or order number.
Tested in advance, including all design data and circuit
diagrams as well as comprehensive operating and fixed-price
guarantees, the ready-to-install handling systems shorten the distance
from idea to machine and reduce the number of interfaces. More than
100 freely combinable and harmonized electric and pneumatic
components are available for accurate 3D positioning. New electric
drives have significantly extended the application spectrum.
Modular systems such as the EGSK and, EGSP form the
cornerstone of Festo's new generation of solutions for machines and
processes.
About Festo
Festo is a leading global manufacturer of pneumatic and
electromechanical systems, components, and controls for process
control and factory automation solutions, with over 55 national
headquarters serving more than 180 countries.
Celebrating 40 years of innovation in the United States and over 80
years globally, Festo continuously elevates the state of manufacturing
with innovations and optimized motion control solutions that deliver
higher performing, more profitable automated manufacturing and
processing equipment.
Our dedication to the advancement of automation extends beyond
technology to the education of current and future automation and
robotic designers with simulation tools, teaching programs, and on-site
services.
For sales information, call Festo at 800-993-3786.
Featured Product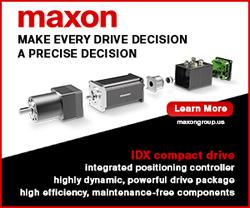 A brushless DC motor solution for use in hip and knee exoskeletons. This complete joint actuation unit consists of motor, gearhead, encoder and position controller. Fitting absolute encoder directly at the joint rotation provides designers increased positioning accuracy. The unit will deliver 54Nm of continuous torque and 120Nm on a 20% duty cycle. The system can be operated on supplies between 10 and 50V DC and the actuation speed is up to 22rpm.