Patent covers imaging process for increased frame rates of imagers for HD and 2K
SANTA BARBARA, Calif.--Iconix Video, a leading developer of advanced high-definition camera systems and manufacturer of the Studio2K, the only point-of-view (POV) camera system capable of 2K digital cinema outputs, announced that the United States Patent and Trademark Office has issued US patent 8,218,052, entitled "High Frame Rate High Definition Imaging System and Method."

This US patent, and its issued counterparts in the European Union, Korea, Australia, China and Canada, covers an "asynchronous" process for facilitating increased frame rates for high-resolution imaging. This process enables higher frame-rate video than previously feasible from lower-cost and smaller, yet high resolution, CCD sensors.
Iconix employs this technology in its revolutionary Studio2K camera system, a high-performance multi-format solution ideal for broadcast and motion picture applications, including stereoscopic 3D. The 2K resolution allows for seamless intercutting with formats from IMAX to motion picture film to Digital Cinema, and Iconix cameras have been used extensively for features, scripted and unscripted television, sporting and live event telecasts, telecine, and more.
"We are thrilled to have secured the patents covering the unique process behind our imaging technology. With these in place, Iconix is dedicated to the goal of introducing its technology into other applications and markets through licensing and OEM partnerships," said Iconix CEO Wayne Upton. "High-resolution, high frame-rate imaging systems are becoming important for numerous applications outside of entertainment, including medical imaging, telepresence, high-end security, unmanned vehicles, machine vision and military markets."
Iconix has already secured a license agreement with a major medical manufacturer, and OEM partnerships with a well-respected microscopy manufacturer. Other current OEM projects include telepresence videoconferencing, dental documentation and training, and even professional astronomy.
"We are actively seeking new partners interested in our technology for their applications, and are eager to assist the adoption of high-definition imaging into markets where this has not yet been feasible or affordable," said Upton.
About Iconix
Iconix Video, Inc. is a developer of high-performance, high functionality and small form factor high definition cameras. Iconix solutions provide the "best-in-class" features of leading high-definition camera systems at a fraction of the cost of competing products. Iconix is based in Santa Barbara, California. For more information, visit www.iconixvideo.com.
Featured Product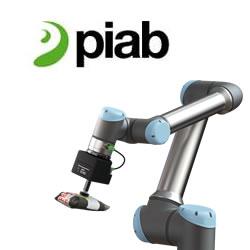 Piab's Kenos KCS gripper enables a collaborative robot to handle just about anything at any time. Combining Piab's proprietary air-driven COAX vacuum technology with an easily replaceable technical foam that molds itself around any surface or shape, the gripper can be used to safely grip, lift and handle any object. Standard interface (ISO) adapters enable the whole unit to be attached to any cobot type on the market with a body made in a lightweight 3D printed material. Approved by Universal Robots as a UR+ end effector.