MILWAUKEE--Rockwell Automation, Inc. (NYSE: ROK) will host its annual investor meeting on Thursday, November 8, in conjunction with the Company's Automation Fair being held at the Pennsylvania Convention Center in Philadelphia www.automationfair.com.

The meeting will include presentations on Rockwell Automation's strategic plans and market outlook by Chairman and Chief Executive Officer Keith Nosbusch, Chief Financial Officer Ted Crandall, and other key leaders.
The video webcast portion of the meeting will begin at approximately 1:00 p.m. Eastern Time and will be available on the Company's website at www.rockwellautomation.com.
Rockwell Automation, Inc. (NYSE: ROK), the world's largest company dedicated to industrial automation and information, makes its customers more productive and the world more sustainable. Headquartered in Milwaukee, Wis., Rockwell Automation employs about 21,000 people serving customers in more than 80 countries.
Featured Product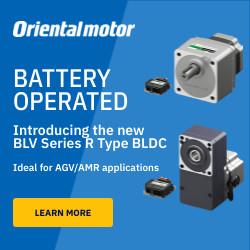 The BLE2 Series replaces our popular BLE Series and continues our brushless motor advantages by featuring an all new compact, high-power and high-efficiency brushless DC motor combined with a Driver that can be digitally set and controlled via external DC voltage or by the front panel. The BLE2 Series can easily compete with larger 3-phase inverter driven motors in many more applications, with built-in simple holding torque function, saving space and increasing performance thanks to the advantages of a brushless motor design. The BLE2 Series has a maximum speed of 4000 r/min, achieving a speed ratio of 1:50 (80 to 4000 r/min). The new motor structure is small than previous models and enables high power and high efficiency while incorporating easy setting, installation and wiring. The new motor connector offers IP66 degree of protection and allows for easy and direct connection between motor and driver with two available orientation of cable outlet direction. Standardized use of stain