New coax cables deliver improved electrical performance, low loss and superior bandwidth
MILCOM 2012

LISLE, Ill.--Molex Incorporated will be showcasing new products from Temp-Flex, LLC., a Molex company, at the Military Communications Conference (MILCOM 2012) October 29th through November 1st in Orlando, Florida, booth 634. Designed for high-bandwidth applications using proprietary processes, Temp-Flex microwave cables deliver exceptional electrical performance in military, aerospace and defense, robotics and medical markets, in addition to automatic test equipment.
"Our flexible microwave and RF coaxial cables are engineered to meet or exceed the stringent requirements for a range of rugged industrial and military applications," states Jeet Sanyal, engineering manager, Temp-Flex. "Customers trust Temp-Flex standard and enhanced coaxial cable solutions to deliver the reliability and performance they need - and faster, more competitive lead-times."
Temp-Flex microwave coaxial cables are available with either a solid core fluoropolymer resin dielectric (low loss) or an air-enhanced design with a fluoropolymer resin layer applied over dual monofilaments (ultra-low loss) around the center conductor for increased signal speed. High purity fluoropolymer resin offers a low dissipation factor and ensures a lower rate of energy loss. Highly consistent manufacturing processes are used to maintain tight mechanical tolerances yielding extremely stable electrical performance.
Additional benefits of Temp-Flex low and ultra-low loss microwave coaxial cable include:
*Phase stability
*Tight impedance tolerance: 50 Ohms ± 1 Ohm
*Shielding effectiveness: > 100 dB
*Tight time delay tolerance
*Outstanding Insertion Loss
*FEP alternative to PTFE and ePTFE
*Bandwidth potential up to 110 GHz
*Stability under dynamic conditions
*Minimal phase change versus flexure
*Low Smoke Halogen Free Available
Designed for superior monitoring and control of radar, military vehicles, satellite, space, missile, RF ablation and test and measurement equipment, Temp-Flex coaxial cable solutions are insulated with a fluoropolymer dielectric. A helically-wrapped silver-plated copper flat-wire shield and braid are applied to all cable sizes to achieve superior shielding effectiveness. The standard solid core (low loss) construction coaxial cable delivers 70 percent velocity of propagation (VOP), while the air-enhanced dual monofilament design (ultra-low loss) achieves 85 to 88 percent VOP and improved insertion loss at high frequencies.
For more information about Temp-Flex microwave coaxial cables, please visit http://www.tempflex.com. To receive information about other Molex products and industry solutions, please sign up for our e-nouncement newsletter at http://www.molex.com/link/register/.
About Temp-Flex, LLC.
Temp-Flex manufactures specialty wire and cable, and invests heavily in research and development to provide technological solutions to the medical, aerospace, military, computer, electronics, test and measurement and industrial markets. Processing equipment and tooling are fabricated in Temp-Flex's fully equipped machine and fabrication shops to ensure product quality and consistency. Temp-Flex employs an extrusion process that uses fluoropolymer insulation with a concentration on thin walls for the medical industry and faster speeds in the electronics industry. Typically designed for extreme conditions and harsh environments, all Temp-Flex product lines adhere to RoHS compliancy standards.
About Molex Incorporated
Providing more than connectors, Molex delivers complete interconnect solutions for a number of markets including data communications, telecommunications, and consumer electronics, industrial, automotive, medical, military and lighting. Established in 1938, the company operates 40 manufacturing locations in 16 countries. The Molex website is http://www.molex.com. Follow us at http://www.twitter.com/molexconnectors, watch our videos at http://www.youtube.com/molexconnectors, connect with us at http://www.facebook.com/molexconnectors and read our blog at http://www.connector.com.
Featured Product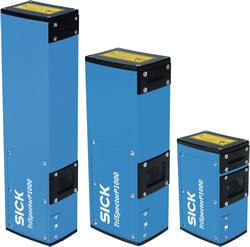 LiDAR (Light Detection and Ranging) is one of the most reliable methods for parts sensing in factory automation today. SICK has made this technology affordable and easy to use! Click on the video link below to learn about the TiM1xx LiDAR sensor and how it provides: - Area scanning LiDAR technology in a standard sensor package - 200-degree field of view and 3 meter sensing range allows for 169 square feet of area scanning - Compact size and light weight enables ease of deployment in "non-standard" type applications, like end-of-arm robotic tooling - Wide area scanning without having to mount a transmitter and receiver makes installation much easier - IO Link for easy configuration