New funding allows for expansion of technology to significantly improve performance and lower costs of electric motors
WAKEFIELD, Mass.--Persimmon Technologies Corporation, a leading provider of motor technology and robotics for the semiconductor, solar, LED and FPD equipment markets, announced today that it received Phase II of a Small Business Innovation Research (SBIR) grant from the National Science Foundation to develop a novel soft magnetic material and fabrication process for magnetic circuits of electric machines, such as winding cores of electric motors.
The commercial potential of this project is to enable production of electric motors with improved performance and efficiency while reducing cost and material scrap associated with manufacturing of motor winding cores. Electric motors are used extensively in a growing number of applications, including robotics, industrial automation, electric vehicles, heating and air conditioning systems, appliances, medical devices, and military and space exploration applications. These markets drive an increasing demand for electric motors with improved performance, higher efficiency, and lower cost.
"We invented the Hybrid-Field motor technology to improve the performance of our robotics. However, the significant benefits of increased output, smaller size and lower cost make this technology attractive to many other markets. Considering the extensive use of electric motors in the $10B low voltage motor market, the disruptive change resulting from our proposed Hybrid-Field motor technology is expected to provide significant commercial and environmental benefits," comments Michael Pippins, President and CEO, Persimmon Technology.
About Persimmon Technologies:
Persimmon Technologies, Corporation is a leading provider of motor technology and robotics for the Semiconductor, Solar, LED, and Flat Panel Display equipment markets. Headquartered in Wakefield, Massachusetts, Persimmon's management team has over 60 years of experience in the development, manufacture, and distribution of robotics and automation systems.
Persimmon Technologies, Corporation is the exclusive Sales Representative for Nidec Sankyo atmospheric robotic products in the USA. Nidec is an $8 billion company traded on the NYSE and Tokyo Stock Exchanges and is one of the largest manufacturers of motors for industrial and consumer applications in the world. Nidec Sankyo is headquartered in Nagano, Japan with robot manufacturing facilities in Japan, Taiwan, and China.
For more information on Persimmon Technology, please visit www.persimmontech.com.
Featured Product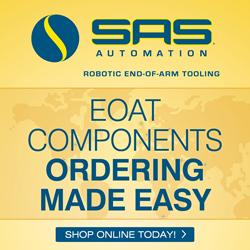 SAS Automation's complete line of modular components allows you to rapidly build your end-of-arm tools in your own plant, meeting your ever-changing automation needs on-demand. And with our newly enhanced Online Shopping Cart, it's never been easier! IT'S SHOPPING MADE SIMPLE, with features like: • Responsive Design so you can access anytime -- desktop, tablet or phone -- with ease • CAD Model Access with 3D Software Integration • Order History • Saved Quotes • Tool Builder • Product Comparisons • Enhanced Search • Social Media Sharing • Product Reviews