New Devices Added to Existing IPM (Inverter Power Module) Series
Worcester, MA - Allegro MicroSystems, Inc. adds several new devices to their existing Inverter Power Module (IPM) portfolio. The SCM1240M family provides a robust, highly-integrated solution for optimally controlling three-phase motor power inverter systems and variable speed control systems. These devices were designed to conserve energy when driving the motors of both residential and commercial appliances. This new series is offered by Allegro and manufactured and developed by Sanken Electric Co., Ltd. in Japan.

These ICs take 85 to 253 VAC input voltage, and 10 to 30 A (continuous) output current. They can withstand voltages of up to 600 V (IGBT breakdown voltage). The high current SCM1240M series employs a new, small-footprint proprietary DIP package. The IC itself consists of all of the necessary power elements (six IGBTs), pre-drive ICs (three), and freewheeling diodes (six), needed to configure the main circuit of an inverter, as well as a bootstrap circuit (three bootstrap diodes and three boot resistors) as a high-side drive power supply. This enables the main circuit of the inverter to be configured with fewer external components than traditional designs.
Applications include residential white goods (home appliances) and commercial appliance motor control, such as: air conditioner compressor motors, air conditioner fan motors, refrigerator compressor motors and washing machine main motors.
Allegro MicroSystems, Inc. is a leader in developing, manufacturing and marketing high-performance semiconductors. Allegro's innovative solutions serve high-growth applications within the automotive market, with additional focus on office automation, industrial, and consumer/communications solutions. Allegro is headquartered in Worcester, Massachusetts (USA) with design, applications, and sales support centers located worldwide. Further information about Allegro can be found at www.allegromicro.com.
Featured Product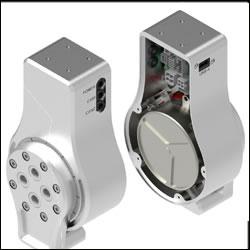 A brushless DC motor solution for use in hip and knee exoskeletons. This complete joint actuation unit consists of motor, gearhead, encoder and position controller. Fitting absolute encoder directly at the joint rotation provides designers increased positioning accuracy. The unit will deliver 54Nm of continuous torque and 120Nm on a 20% duty cycle. The system can be operated on supplies between 10 and 50V DC and the actuation speed is up to 22rpm.