Extended Temperature Version Now Available for Automotive HVAC Systems
Worcester, MA - Allegro MicroSystems, Inc. introduces an automotive version of their existing A4950 full-bridge motor driver IC. Allegro's A4950 was designed for pulse width modulated (PWM) control of DC motors and is now capable of peak output currents to ±3.5 A and operating voltages to 40 V. These design updates were implemented to accommodate high ambient operating temperature applications within the automotive market. The new device is tested across extended temperature and voltage ranges to ensure compliance in both automotive and industrial applications.

Simple logic interface is available to control the speed and direction of a DC motor with externally applied PWM control signals. Internal synchronous rectification control circuitry is provided to lower power dissipation during PWM operation. Internal circuit protection includes overcurrent protection, motor lead short to ground or supply, thermal shutdown with hysteresis, undervoltage monitoring of VBB, and crossover current protection.
The A4950 is provided in a low-profile 8-pin SOICN package with exposed thermal pad (suffix LJ) that is lead (Pb) free, with 100% matte tin leadframe plating.
Allegro MicroSystems, Inc. is a leader in developing, manufacturing and marketing high-performance semiconductors. Allegro's innovative solutions serve high-growth applications within the automotive market, with additional focus on office automation, industrial, and consumer/communications solutions. Allegro is headquartered in Worcester, Massachusetts (USA) with design, applications, and sales support centers located worldwide. Further information about Allegro can be found at www.allegromicro.com.
Featured Product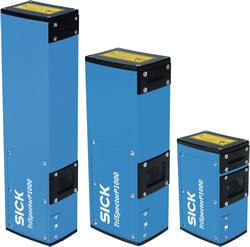 LiDAR (Light Detection and Ranging) is one of the most reliable methods for parts sensing in factory automation today. SICK has made this technology affordable and easy to use! Click on the video link below to learn about the TiM1xx LiDAR sensor and how it provides: - Area scanning LiDAR technology in a standard sensor package - 200-degree field of view and 3 meter sensing range allows for 169 square feet of area scanning - Compact size and light weight enables ease of deployment in "non-standard" type applications, like end-of-arm robotic tooling - Wide area scanning without having to mount a transmitter and receiver makes installation much easier - IO Link for easy configuration