New Regulator ICs Designed to Meet Standby Power Requirements
Worcester, MA - Allegro MicroSystems, Inc. introduces the STR2W100 and STR3A100 power IC series designed for switching power supplies. These new devices incorporate a power MOSFET and a current mode PWM controller IC in one package. Each package includes a startup circuit and a standby function in the controller, which achieves low power consumption, low standby power, and high cost-effectiveness in power supply systems, while reducing external components. These devices are offered by Allegro and manufactured and developed by Sanken Electric Co., Ltd. in Japan.

This new series is targeted at the consumer, industrial and office automation markets with end applications to include set top boxes, home and digital appliances, office automation equipment and industrial apparatus. Improved internal circuitry can achieve significant reductions in no-load power consumption, up to 10 mW in the STR3A100 series and up to 25 mW in the STR2W100 series.
Two package options are available. The STR2W100 is available in the TO-220F-6L package and the STR3A100 is available in the DIP-8 package.
Allegro MicroSystems, Inc. is a leader in developing, manufacturing and marketing high-performance semiconductors. Allegro's innovative solutions serve high-growth applications within the automotive market, with additional focus on office automation, industrial, and consumer/communications solutions. Allegro is headquartered in Worcester, Massachusetts (USA) with design, applications, and sales support centers located worldwide. Further information about Allegro can be found at www.allegromicro.com.
Featured Product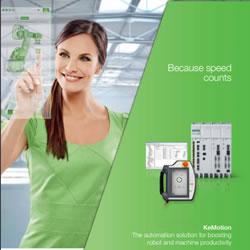 Best ergonomics and an intuitive user interface are key factors for efficient operation and monitoring. With the KeTop devices, high-performance, application-optimized hardware is available. The turnkey TeachView robotics user interface enables fast and easy teach-in. User-friendly HMIs are created with the easy-to-operate KeView visualization software - an optimum user experience is guaranteed.