R. Andrew Hove Named President of HDT Global Expeditionary Systems Group (ESG)
SOLON, Ohio January 08, 2013

HDT Global (HDT), a leading provider of highly-engineered mobile military and emergency response solutions, announced today that R. Andrew Hove has been named President of HDT Expeditionary Systems Group (ESG). Mr. Hove assumes his responsibilities from Tony DiLucente, HDT Global CFO, who has been leading the organization as Acting President of ESG during the search for President. Mr. DiLucente will now resume his full-time duties as CFO.
"We're thrilled to welcome Andy Hove, whose experience in strategic planning, implementing new business systems and processes, and in leading business development will be instrumental in furthering the success of HDT Expeditionary Systems Group," said Jason Chamberlain, President and CEO, HDT Global. "We look forward to his leadership of ESG and his positive impact throughout our organization. We'd also like to thank Tony DiLucente for his leadership during our search for ESG President."
With more than 25 years of experience in defense and security, Hove brings with him a wealth of knowledge in U.S. and international defense programs, products and services. He has a successful record of leading key initiatives, core business growth and new business development. Hove is a former Army officer who served in a wide range of operational, command and staff assignments. His executive positions in the defense industry include Chief Operating Officer at Mistral Group, President of Oshkosh Defense, Vice President of Combat Systems Programs at BAE Systems, Director of Bradley Fighting Vehicle Programs at United Defense, and Assistant General Manager for Operations at FNSS Defense Systems.
In addition, Hove is a board member of the National Defense Industry Association and serves on the audit committee. He holds a Bachelor of Science from Nebraska Wesleyan University, a Master of National Security Affairs from the Naval Postgraduate School and a Master of Business Administration from the University of Michigan.
For more information about HDT Global, visit http://www.hdtglobal.com.
About HDT: Headquartered in Solon, Ohio, USA, HDT Global is widely recognized for its industry-leading production of state-of-the-art, fully integrated deployable solutions, including shelters, generators, heaters, air filtration devices, parachutes, aerial delivery systems, robotics and other engineered technologies, currently used by U.S. and allied military units worldwide, as well as civilian government and commercial customers. For more information, visit http://www.hdtglobal.com.
Featured Product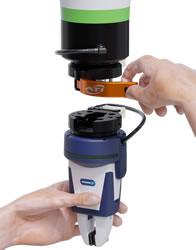 Simpler, stronger, and more precise. ATI Industrial Automation has developed a series of Manual Tool Changers that provides a cost-effective solution for quickly changing tools by hand. They feature a unique design that combines high strength, excellent repeatability, and a patent-pending screw-cam locking mechanism with multiple fail-safe features, which resists vibration and prevents loosening. These robust and compact Manual Tool Changers can handle payloads up to 80 pounds (36 kg) and pass pneumatics and electrical signals.