Visual Components solution offers cost-effective plant layout simulation to Stäubli's clients and partners.
Visual Components and Stäubli Robotics are announcing the launch of the Stäubli Controller Add-on as a milestone of the newly crafted partnership between the Finnish based simulation provider and the Swiss based robot manufacturer.

"Visual Components solution offers cost-effective plant layout simulation to Stäubli's clients and partners, giving them an even bigger advantage in today's market. They can now react even faster to customer demands, designing the robotic solution in very short time and convince them of their solution with the help of realistic 3D simulation." says Mikko Urho, Sales Director, Visual Components.
The Stäubli Controller Add-on connects straight to the CS8 Controller in the Stäubli Robotics Studio allowing the user to create VAL3 programs directly in simulation. A whole range of easy to use tools enable the fast and easy creation of whole robot cells and layouts within minutes. The created robot program can then be downloaded and verified to the CS8 controller or emulator within the Stäubli Robotics Studio.
As a first step to consolidate the partnership between the two major players in the market, Visual Components simulation tools are being introduced to Stäubli Robotics offices. These advanced simulation tools are now available to all customers and system integrators of Stäubli Robotics.
About Visual Components
Visual Components is a leading global provider of 3D robotics and manufacturing simulation software. These innovative, powerful tools offer machine builders, system integrators, and manufacturers around the world a simple, quick, and highly cost-effective way to build and simulate their total process solutions. Visual Components' powerful software suite consists of four software solutions packages: 3DCreate, 3DSimulate, 3DRealize R and 3DRealize. Visual Components, a company headquartered in Espoo, Finland, has an extensive international partner network.
Featured Product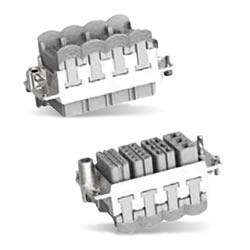 TE Connectivity's HDC Dynamic Module integrates the Dynamic series flexible signal and power solutions and the HDC Heavy Duty Connector series to form a solution of harsh environment connectors. TE's HDC Dynamic Module offers the top features of the two series. It uses the contact concept of the Dynamic series, with its proven performance in industrial uses and its cost effectiveness compared to legacy cutting contacts. The HDC connectors make the module a reliable solution for harsh environments. TE's HDC Dynamic Module supports 2A/32V to 40A/300V performance and 3 positions to 48 positions.