Rentapen, Weld Fixture Components Manufacturer, Provides Lessons in Machine Design Using Videos and Youtube.
Waukesha, WI January 15, 2013

On January 2, 2013, Rentapen added another lesson for new machine designers entitled, "Product Piece Part Holding with Precision -- Why use Adjustability with Shims". The lesson is part of the on-going tutorials put out to help prepare CAD Drafting students and new engineers on the art and science of Weld and Assembly Fixture Design. A fixture is used to hold product parts in place in the factory while they are being manually or robotically welded or assembled.
Rentapen's President and Queen of Lean Machine Design, Susan Straley, has created a Weld Fixture Design 101 Blog and posts bi-weekly educational and helpful information for individuals in the Manufacturing Industry. Rentapen has created a series of videos and instructions on best practices.
This latest Weld Fixture Design Blog addressed 3-way adjustability with weld fixtures that corresponds with the latest video that has been released on Youtube and on their website. Visitors to the blog will find a plethora of different categories on the Weld Fixture Design 101 page. Some common categories that Staley blogs about are locating pins, metal shims, machine design, fasteners and RAPid Tooling Components™.
There are over 50 different videos that a subscriber may choose from when viewing Rentapen's Youtube channel. Most of the videos are designed to inform the viewer and will educate the viewer on how to design or use purchased tooling components.
Rentapen is a Wisconsin Certified Woman-Owned Business Enterprise that has been designing machine tools for over 36 years. The Milwaukee area company was voted a Top 10 Business in Waukesha County.
Featured Product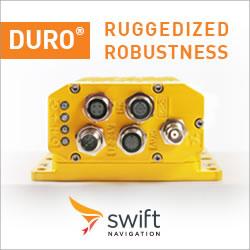 Duro® is a ruggedized version of Swift Navigation's Piksi® Multi RTK GNSS receiver. Built to be tough, Duro is designed for easy integration into existing equipment. This affordable, easy-to-deploy GNSS sensor delivers robust, centimeter-accurate positioning while protected against weather, moisture, vibration, dust, water immersion and the unexpected that can occur in outdoor long-term deployments.