New AX Contollers increase value, lower component and development cost and decrease time-to-market of automation solutions
Austin, TX January 15, 2013

Agile Planet, the easiest, fastest and most cost-effective means of developing and deploying new robot and motion control solutions, today announced the general availability of the company's newest products, the AX-50™ Controller and the AX-100™ Controller. The new AX Controllers mark the newest evolution in automation trends - extremely simple, yet incredibly intelligent control.
AX controllers provide scalable PC-based motion/robot control that can either be fully programmed from a Rockwell PLC or be standalone machine/robot controllers. AX-50/100 Controllers also support 16 axes of motion. By using the AX-50/100 Controllers, customers will reduce development cost, decrease time-to-market and greatly increase their potential customer base through no need for special programming skills and ability to interact with any PLC. The AX-50/100 Controllers can easily be programmed in Microsoft Visual Studio or using RSLogix 5000 from Rockwell Automation. All AX controllers are EtherCAT masters and have built in support for a variety of servo drives and IO modules.
"With Agile Planet it's all about our simplicity," said Chetan Kapoor, CEO at Agile Planet. "For the first time in the history of automation, we've been able to make working with any PLC and/or any brand of automation equipment simple. We allow automation end users to reduce their maintenance cost and provide robot and motion developers an easy means of decreasing development costs while increasing value to their customers."
The AX-50/100 Controllers are now commercially available from Agile Planet and best suited for System Integrators, Machine Builders, OEM's and Robot Makers. For more information, please contact Agile Planet at sales(at)agileplanet(dot)com or call at 512-687-4728.
About Agile Planet
Agile Planet is the easiest, fastest and most cost-effective means of developing and deploying new robot and motion control solutions. Agile Planet's intelligent control software platform and custom engineering services allow for the industry's first and only true plug-n-play capability, greatly reducing cost and providing the fastest time-to-market. Agile Planet's products include a range of motion and robot controllers with complementary software designed to greatly simplify every aspect of automation. Products are ideally suited for machine builders/OEMs, system integrators, robot makers, motion vendors and R&D developers. For more information, visit http://www.agileplanet.com
Featured Product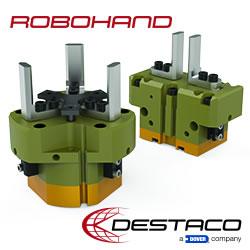 Automatically change end effector tooling quickly and easily with Destaco's Automatic Tool Changers. Designed with exceptional repeatability, high rigidity and load capacity, they are perfect for multiple tooling applications utilizing one robot. We offer different models and sizes to handle light-duty to heavy-duty applications. Our RQC/RTP Series provides a high level of flexibility with a configurable, modular design that accommodates up to four optional modular interfaces.