Leading Cloud-based Warehouse Management Solution Provider Dispels Myths Around The Ability To Direct and Control Full Warehouse Automation in the Cloud
ATLANTA, Jan. 16, 2013 - LogFire, the leading multi-tenant cloud-based supply chain execution and extended warehouse management (WMS) solution and managed services provider confirmed their participation at ProMat International Expo 2013, January 21-24 in Chicago. ProMat is sponsored by the Material Handling Industry of America (MHIA) and is expected to attract 30,000 attendees to the Chicago McCormick Place venue - one of the largest logistics gathering in the industry. LogFire will be highlighting its cloud-based extended warehouse management solution capabilities that include automation and control of sophisticated material handling equipment. ProMat is co-located this year with Automate 2013, allowing attendees to maximize their time in making decision to implement improvements in their company's operations.

LogFire is a highly configurable, rapidly installed, multi-channel source to consumption distribution management and in-store inventory management solution. LogFire has not only helped companies improve their supply chain execution and warehousing business processes, but done so with market leading cloud-based technology that is able to deliver ongoing innovation and a lower total cost of ownership over traditional systems. LogFire has also dispelled the myths whether warehouse management in the cloud is applicable to highly automated environments. LogFire not only provides integration with radio frequency (RF) hand held and vehicle mounted devices and voice solutions as well as bar code and RFID printing, but also sophisticated material handling equipment integration including by example conveyer systems, tilt and carton sortation, and pick/put to light systems.
ProMat offers more than 100 educational and networking sessions spread over four days. The main emphasis and focus is face to face time with the more than 800 solution and equipment providers, including: logistics and supply chain management; automatic identification equipment and systems; material handling and logistics equipment and systems; inventory management, information technology, and controlling technologies; packaging, containers, and shipping equipment; dock and warehouse equipment and supplies; and consultants and distribution system planners.
LogFire heads to ProMat 2013 after a successful week at the National Retail Federation's (NRF) Annual Convention & EXPO, called Retail's BIG Show, in New York City. At NRF LogFire and partner Blue Ridge combined forces to share their combined solutions for cloud-based supply chain planning and execution.
"We are helping our clients rethink and redo their supply chain and logistics operations by enabling them to automate their warehouse operations in the cloud," commented Diego Pantoja-Navajas, Founder & CEO of LogFire. "We've shown that the LogFire multi-tenant cloud-based warehouse management solutions provides the depth of configurable omni-channel process requirements necessary for companies of all sizes, offering a more cost effective and innovative alternative to traditional systems."
About LogFire
LogFire is a leading provider of managed services and innovative cloud-based supply chain execution and warehouse management solutions for manufacturers, wholesalers, logistics service providers, (3PLs) retailers, and e-commerce companies of all sizes. LogFire combines strong supply chain domain expertise with flexible cloud-based solutions and Software-as-a-Service (SaaS) pricing for multi-channel warehouse management needs, providing inter-enterprise as well as extended-enterprise network advantages over traditional systems. The LogFire configurable cloud-based solutions include capabilities for inbound and outbound distribution management, productivity management, value added services, configurable multi-channel distribution center and in-store inventory management process flows, as well as reverse logistics capabilities for source-to-store to-consumer business improvements. For more information visit www.LogFire.com
Featured Product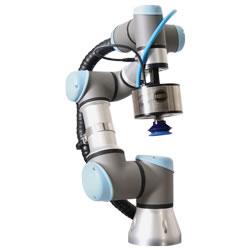 A variety of standard and custom options make the Bimba CRVT the perfect tool for your next collaborative robot project. This completely integrated plug-and-play solution is simple to operate and adds unparalleled flexibility to your collaborative robot.