Among the nearly 800 exhibitors at ProMat are five companies making their debut at the event.
January 16, 2013

Among the nearly 800 exhibitors at ProMat are five companies making their debut at the event. Although trade shows in general have drawn lower attendance and exhibitor numbers over the past few years of the recession, many of these new exhibitors cite ProMat's industry reputation as a key reason for making such an investment.
"ProMat is the premier material handling and logistics tradeshow in North America," said Beth Ann Haven Ferner, director of marketing for OPEX Corporation (Booth 619). "It provides us the greatest exposure and opportunity to reach the greatest number of qualified buyers in a single venue."
Rich Mintz Jr., marketing manager at Siemens Industry (Booth 635) agreed. "There are only a couple of ways to endure economic downturns: pull the covers over your head and hope it goes away soon, or get to work inside your company to make yourself stronger," he said. "We believe that forward-thinking companies use times like these to evaluate their operations and look for new, innovative ways to better serve their customers and improve themselves."
For new exhibitor Vanderlande Industries (Booth 3514), ProMat is an opportunity to gain better visibility in the North American materials handling marketplace. "Our company is very well-known in Europe and Asia, and ranks as the fifth largest material handling supplier in the world. However, our capabilities and reputation are not as well-known in North America. Our goal in exhibiting at ProMat is to change this," said Vanderlande's North American president Ewout Cassee. "Trade shows like ProMat provide an excellent opportunity to directly interface with customers and show them the technology and benefits our solutions and services offer for their specific applications."
OPEX is launching a new product in their booth, said Ferner. "The Perfect Pick is a goods-to-person, piece-picking solution engineered to eliminate the complexity associated with other shuttle technologies. It uses iBOT intelligent wireless vehicles with full access to the inventory in a single aisle without elevators, lifts or conveyors to deliver directly to a picker at rates up to 1,000 dual cycles per hour."
Like OPEX, Siemens Industry is also unveiling a new product, the efficient SIMOGEAR geared motor. "We offer a holistic approach to material handling automation systems, specifically in conveyor systems," said Mintz. "Our offerings save time and money from concept through life cycle maintenance."
Also new to ProMat this year is sortation supplier Bell & Howell (Booth 3553). "We have more than 11,000 systems installed in the document insertion and sortation industry," said Tim Palmer, sales manager of logistics systems. "We've applied that experience to develop a new parcel shipping system focused on shipping and receiving automation that will significantly increase throughput for larger volume DCs."
Finally, with exhibits on both the Automate and ProMat show floors, FANUC Robotics North America Inc. (Booth 4541) is looking to showcase both the breadth of their robotic solutions, as well as specific applications in material handling, said Dick Motley, senior account manager. "The Automate exhibit will be a broader based exhibit with a sampling of all our solutions for multiple industries, whereas on the ProMat show floor, we'll be presenting some of the emerging technology we're developing that is a perfect fit for materials handling applications-particularly in robot gripping equipment. This gripping system can handle a variety of product sizes, shapes and weights when building a pallet, for example. We want to get the message out that robots are not just for manufacturing anymore, they're definitely moving into the supply chain side."
ProMat 2013 is scheduled to be held January 21-24, 2013 in Chicago's McCormick Place South. The tradeshow will showcase the latest manufacturing, distribution and supply chain solutions in the material handling and logistics industry. Modern's complete ProMat 2013 coverage.
Featured Product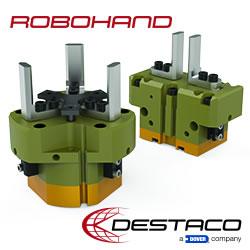 Automatically change end effector tooling quickly and easily with Destaco's Automatic Tool Changers. Designed with exceptional repeatability, high rigidity and load capacity, they are perfect for multiple tooling applications utilizing one robot. We offer different models and sizes to handle light-duty to heavy-duty applications. Our RQC/RTP Series provides a high level of flexibility with a configurable, modular design that accommodates up to four optional modular interfaces.