Some of the industries RoboVent serves are automotive, industrial machinery, food processing, chemical and pharmaceutical.
RoboVent, a leading U.S. manufacturer of ventilation and filtration equipment for industry has announced it has expanded its national network of sales offices with a new location in Milwaukee Wisconsin. The company recently opened this branch, its 3rd expansion of the year, to bring its total number of satellite offices to seven.

RoboVent is widely known as a leading provider of ventilation solutions that improve production quality and employee safety in manufacturing facilities engaged in metalworking and other engineered process systems through their advanced dust and fume collector technology. In addition, the company's customized solutions provide value-added services such as single-source convenience, installation, industry-leading warranties and maintenance programs. Some of the industries RoboVent serves are automotive, industrial machinery, food processing, chemical and pharmaceutical. Air ventilation and filtering for process systems in these facilities is RoboVent's area of expertise.
Asked about RoboVent's growth, John Reid, President of the RoboVent Products Group said, "Businesses that bring new ideas and innovative solutions to the market are growing. We identified a few markets where we know RoboVent can make an important contribution to the success of key manufacturing segments. Milwaukee fits our growth and strategic plans perfectly so we're happy to be a part of the manufacturing community here."
Factory environments will become cleaner and safer throughout the western Great Lakes region when RoboVent's new Milwaukee office is involved. From whole-plant ventilation systems to source capture units for fumes and dirt, RoboVent has a comprehensive line of products and services to improve air quality and plant productivity, that in turn create a safer environment for a workforce.
About The Company
During the past 23 years RoboVent has established itself as leader in the field of air filtration with highly efficient, reliable and cost-effective systems installed at major manufacturing operations across North America. Applications include welding, cutting and metalworking; dust and lubricant mist collection; and general ventilation. At its core, RoboVent is an environmental problem solving company for process systems. Their expertise and resources in collecting, filtering and recycling contaminated air can be applied to almost any process in the manufacturing environment.
Featured Product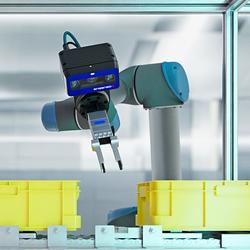 App Your Sensor®! What would smartphones be without apps? They would be mobile phones that can't do much more than make phone calls and sending SMS. Apps turn smartphones into intelligent assistants with any number of different tasks. Transferred into the world of image processing, this app-based approach transforms cameras and sensors into customised, smart vision sensors.