Teach a Robot by Hand-Guiding its Arm through Welding Trajectories; Robotiq Makes Automated Arc Welding Intuitive to Welders and Machinists at Automate 2013
ROBOTIQ - Booth 942

Existing robotic welding equipment can now be accessorized with an easy-to-use, bolt-on device that enables any welder or machinist to guide the robot's end-effector with their hands by dragging it through the motions.
This new robot accessory, Kinetiq Teaching, is easily fastened to the end linkage of a robotic arm and records the position for spot and line welds relative to the robot's workspace. Robotic welding no longer requires in-depth knowledge of programming; instead, machinists and welding staff can freely guide the robot arm through its workflow and adjust welding parameters on-the-fly via the teach pendant, then test it live. This process results in a simple and intuitive approach to programming welding trajectories.
"Robotiq has designed Kinetiq Teaching to be a user-friendly solution - simple and intuitive - that can save robot down-time and allow every job shop the opportunity to enjoy the benefits of using a robotic welder." - Samuel Bouchard, President
THIS INTUITIVE ROBOT TEACHING APPLICATION ENABLES USERS TO:
*Teach welding trajectories by hand-guiding the torch through the welding path.
*Set up short runs quickly and easily.
*Reduce robot programming time and cost
*Make robot programming simple and intuitive for any user.
Kinetiq Teaching enables people to demonstrate the placement of the robotic welding tip onto a work piece by physically hand-guiding the end-effector. Buttons on the teach pendant interface are used to designate spot welds, line welds, speeds, and approach angles. Kinetiq Teaching significantly reduces the programming time and complexity of robotic welders.
Robotic welding is becoming increasingly attractive for job shops and contract manufacturers because experienced welders can oversee the productivity of more than one robotic welder at a time. While machinists work to fixture the next batch of parts, an experienced welder can oversee the quality of welds in the existing batch and adjust weld parameters as needed. An experienced welder may choose to perform the first welds by hand, taking note of the best welding process for the work piece, and then train the robot to perform the action repeatedly without touching a single line of code or learning how to program.
Additional information about Kinetiq Teaching is available at: http://robotiq.com/en/applications/robotic-welder.php
COME TO BOOTH #942 TO PLAY WITH THE KINETIQ TEACHING TOOL
Robotiq invites you to visit our booth at Automate 2013 to experience Kinetiq Teaching as part of an exclusive product preview. Visitors will be able to experience teaching-by-demonstration firsthand! You will be able to teach the robot a new trajectory in minutes by easily manipulating the robot arm by hand, recording welding points, and then see the robot execute the trajectory it was just taught.
Kinetiq Teaching and will be soon be available on Yaskawa Motoman welding robots.
ABOUT ROBOTIQ
Robotiq designs and manufactures robotic tooling to maximize ROI in high-mix automated manufacturing.
Based in Quebec City, Canada, we work in partnership with robot manufacturers, system integrators, end users and an extensive network of distributors to enable new application possibilities with robotics.?Robotiq is a privately held company founded in 2008.
Featured Product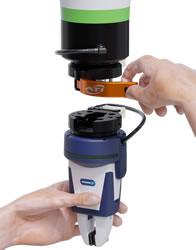 ATI Industrial Automation's MC-10 Manual Tool Changer provides a cost-effective solution for quickly changing tools by hand. Its compact yet robust design is optimized for collaborative robot applications. The ergonomic twist-collar locking mechanism ensures a secure attachment of the tool and easy manual operation with tactile feedback. This Manual Tool Changer can carry payloads of up to 22 lbs and includes multiple fail-safe features that resist vibration and prevent loosening. The MC-10 Manual Tool Changer has integrated air pass-through connections and options to connect electrical utilities if needed. ATI will feature the new MC-10 along with a variety of other robotic demonstrations and product displays at this year's IMTS show in Chicago (Booth #236417).