The vehicle will be used to advance NRL's low-frequency broadband (LFBB) payload technology and support their broader mission to advance basic and applied research in undersea warfare.
Quincy, MA, USA-24 January 2013-Bluefin Robotics, a leading provider of Unmanned Underwater Vehicles (UUVs), announced that they will produce a variation of the Knifefish UUV for the Naval Research Laboratory (NRL). Knifefish is a specialized Bluefin-21 UUV that is being developed for the Surface Mine Countermeasure Unmanned Underwater Vehicle (SMCM UUV) program for which Bluefin is under subcontract to General Dynamics Advanced Information Systems. Bluefin completed the Knifefish Preliminary Design Review earlier this year and will leverage that design to deliver a system to NRL. The vehicle will be used to advance NRL's low-frequency broadband (LFBB) payload technology and support their broader mission to advance basic and applied research in undersea warfare.

"We are pleased that we are able to easily adapt the Knifefish design for NRL's specific needs," said David P. Kelly, President and CEO of Bluefin Robotics. "This is just another example of how the UUV technology is maturing into a reliable, robust platform option for advancing new science and capability."
Bluefin's technology has proven suitable for specialized acoustic payloads like NRL's LFBB sonar. For the past ten years, the two groups have been working closely together on developing and fielding the Reliant vehicle, a Bluefin-21 used as a science and technology system for the original LFBB development.
"Science and defense programs are now mutually benefitting from the investments made in the UUV technology. Bluefin has been a key contributor to that effort with the Reliant vehicle, their commercial systems, Knifefish, and now with our new UUV," said Dr. Brian Houston, acting head of NRL's Physical Acoustics Branch. "The science made possible with this vehicle will advance the nation's mine-hunting capabilities that can be incorporated into future generations of UUVs."
In addition to many of the Knifefish features, NRL's new vehicle will be equipped with two-way iridium communications, specialized sensors, and empty sections that will accommodate their acoustic payload, including a towed receiver array, and a reacquisition capability. Bluefin will also deliver topside support equipment and graphical-user interface software tools.
This program is being funded as a contract modification to contract #N00173-10-C-6008.
ABOUT BLUEFIN ROBOTICS
Bluefin Robotics designs, manufactures and operates Unmanned Underwater Vehicle (UUV) systems and related technology. Founded in 1997, the company has grown to become a world leader in UUV products designed for defense, commercial, and scientific applications. Bluefin Robotics is a wholly-owned subsidiary of Battelle. For more information, please send your inquires to sales@bluefinrobotics.com or visit www.bluefinrobotics.com.
Featured Product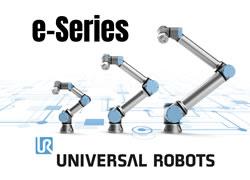 With the new e-Series cobot line, Universal Robots raises the bar for cobots, adding unique new features while significantly strengthening the four core principles defining collaborative robots: fast set-up, easy programming, flexible deployment, and safe operation. With a new built-in, tool-centric Force/Torque sensor the e-Series is ready to take on applications requiring force control right out of the box. A repeatability of 30 micron means the new cobots are suitable for very precise finishing, assembly and electronics tasks. A re-designed user interface decreases cognitive load and expedites program development, while a new externally accessible, 500Hz system bus enables more complex motion control algorithms or profiles.