"We are very pleased to work with LifeHealthcare to bring Renaissance to Australia"
CAESAREA, Israel--Mazor Robotics Ltd. (TASE:MZOR), the developer of Renaissance™, an innovative surgical guidance system and its complementary products, today announced that LifeHealthcare, the Company's distribution and marketing partner in Australia, has ordered its first Renaissance system. The system will be used for training, marketing, and sales purposes, as the distributor's sales force penetrates the Australian market. Mazor recently announced on March 3, 2013 that its Renaissance technology received regulatory approval in Australia.

LifeHealthcare is a leading medical devices distributor in Australia and is marketing and distributing the Renaissance technology in the country on behalf of Mazor. The Australian and New Zealand spine market represents a growing market as surgeons and patients seek innovative technology to enhance surgical capabilities and enrich patient care.
"We are very pleased to work with LifeHealthcare to bring Renaissance to Australia," said Ori Hadomi, CEO of Mazor. "The system sold marks the first Renaissance to be installed in the region and will be used to demonstrate the value it can bring, helping to increase surgeon accuracy and improve patient outcomes. We look forward to introducing more systems to the Australian spinal surgery community as surgeons become accustomed with the technology and its benefits."
Renaissance, Mazor Robotics' next generation surgical guidance system for spine procedures, is transforming spine surgery from freehand operations to highly-accurate, state-of-the-art procedures, with less radiation - even for minimally invasive surgery, scoliosis, and other complex spinal deformity cases. It is the only robotic technology for spine surgery available in the marketplace.
About Mazor
Mazor Robotics (TASE:MZOR) is dedicated to the development and marketing of innovative surgical guidance system and complementary products that provide a safer surgical environment for patients, surgeons, and operating room staff. Mazor Robotics' flagship product, Renaissance™, is a state-of-the-art surgical guidance system that enables surgeons to conduct spine surgeries in an accurate and secure manner. Mazor Robotics systems have been successfully used in the placement of over 20,000 implants in the United States and Europe. Numerous peer-reviewed publications and presentations at leading scientific conferences have validated the accuracy, usability, and clinical advantages of Mazor Robotics technology. For more information, please visit www.mazorrobotics.com.
Featured Product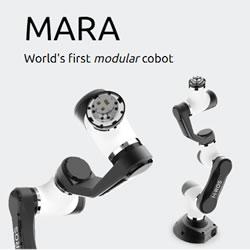 Built out of individual modules that natively run ROS 2.0, MARA can be physically extended in a seamless manner. The modular robot arm delivers industrial-grade features such as a high-speed real time enabled ROS 2.0 communication interface, security protections or a hardware power lifecycle.