Monitors up to 32 access points and client modules
ATLANTA -- Siemens Industry, Inc. introduces the SCALANCE WLC711 IWLAN controller that complies with the IEEE 802.11n industrial wireless local area network (IWLAN) standard.

The new controller is centrally configured and monitors up to 32 access points and client modules, significantly reducing commissioning time and costs, especially with large IWLAN installations. Parallel operation of two controllers increases the availability of the communication network. The device does not require a fan and may be DIN rail mounted.
Designed to work seamlessly with the new SCALANCE W786C and W788C controller access points and SCALANCE W748 client modules, the controller-based IWLAN offers data rates of up to 450 Mbps.
A role-based security function restricts system access to only authorized users. Data is quickly processed and routed in layers 2 and 3 and expanded QoS functions ensure end-to-end IP prioritization for voice, video and data. Channels and power levels are automatically set with a RF management feature.
Additionally, the controller authenticates wireless devices connecting wireless access points and assigns each wireless device to a VNS. It routes traffic from wireless devices, using VNS, to the wired network, applies filtering policies to the wireless device session and has logging and accounting capabilities.
For more information on the SCALANCE WLC711 IWLAN Controller visit http://www.automation.siemens.com/mcms/industrial-communication/en/industrial-wireless-communication/network_components/Pages/network-components-iwlan.aspx?stc=usiia100019&sp_source=usiia100019.
Siemens Industry Sector is the world's leading supplier of innovative and environmentally friendly products, solutions and services for industrial customers. With end-to-end automation technology and industrial software, solid vertical-market expertise, and technology-based services, the sector enhances its customers' productivity, efficiency and flexibility. With a global workforce of more than 100,000 employees, the Industry Sector comprises the Industry Automation, Drive Technologies and Customer Services Divisions as well as the Metals Technologies Business Unit.
The Siemens Industry Automation Division supports the entire value chain of its industrial customers - from product design to production and services - with an unmatched combination of automation technology, industrial control technology and industrial software. With its software solutions, the division can shorten the time-to-market of new products by up to 50 percent. Industry Automation comprises five Business Units: Industrial Automation Systems, Control Components and Systems Engineering, Sensors and Communications, Siemens PLM Software and Water Technologies.
Featured Product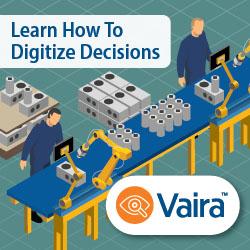 Smart devices and edge processing are considerable assets to vision as it continues to progress towards Industry 4.0. Through these compact, lightweight, lower cost devices, alongside cloud-based processing, machine learning and AI capabilities are becoming more and more prominent in the industrial automation market.