A multitude of applications are possible on the MLX100 platform
DAYTON, OH - Yaskawa Motoman is pleased to announce enhanced functionality of dual-robot control with its MLX100 Robot Gateway™. MLX100 enables controlling and programming of Motoman® robots entirely within the ControlLogix® platform, eliminating the need for an additional controller or language for robotic application development.

MLX100 offers a seamless PLC and robot integration as robots are programmed through the same PLC ladder logic code that is widely used for controlling peripheral equipment such as filling machines, packaging machines and conveyors. This modular, unified control architecture promotes faster robotic application development in a familiar and maintenance-friendly environment.
"The added functionality of controlling multiple robots with a single MLX100 not only simplifies the adoption of robots for the consumer packaging industry, but it also enables developing more complex multi-robot applications with ease," says Shishir Rege, product marketing manager. "Using PAC/PLC language, the MLX100 allows users to program, deploy and support robotic system solutions utilizing their existing in-house expertise."
Rege adds, "We are excited about our continual MLX100 developments as it eases robotic integration upstream for primary and secondary packaging applications. It leverages the strength of the Rockwell Programmable Automation Controller (PAC) for logic and control, along with Yaskawa's advanced kinematics and robot manipulators."
A multitude of applications are possible on the MLX100 platform, including applications requiring vision guidance and line tracking: assembly, part transfer, picking, sorting, kitting, case packing, palletizing and de-palletizing. Select Motoman robots (4-7 axis; 5-300 kg payload) are available with the MLX100 Robot Gateway. Any combination of the available models can be used for dual-robot applications.
ControlLogix and RSLogix are trademarks of Rockwell Automation, Inc.
About Yaskawa Motoman
Founded in 1989, the Motoman Robotics Division of Yaskawa America, Inc. is a leading robotics company in the Americas. With over 250,000 Motoman® robots installed globally, Yaskawa provides automation products and solutions for virtually every industry and robotic application; including arc welding, assembly, coating, dispensing, material handling, material cutting, material removal, packaging, palletizing and spot welding. For more information please visit our website at www.motoman.com or call 937.847.6200.
About Rockwell Automation, Inc.
Rockwell Automation, Inc. (NYSE: ROK), the world's largest company dedicated to industrial automation and information, makes its customers more productive and the world more sustainable. Headquartered in Milwaukee, Wis., Rockwell Automation employs about 19,000 people serving customers in more than 80 countries.
Featured Product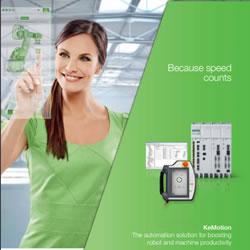 Best ergonomics and an intuitive user interface are key factors for efficient operation and monitoring. With the KeTop devices, high-performance, application-optimized hardware is available. The turnkey TeachView robotics user interface enables fast and easy teach-in. User-friendly HMIs are created with the easy-to-operate KeView visualization software - an optimum user experience is guaranteed.